Microsoft Certified Educators
Best Career Advancement Certifications for Educators in this Digital Age
Best Career Advancement Certifications for Educators in this Digital Age
Best Career Advancement Certifications for Educators in this Digital Age
upEducators is India's Leading Institute to offer instructor-led training courses on Microsoft Certified Educator. We have trained teachers and professors of more than 3000+ Schools and Colleges in India on Microsoft and Google for Education Tools.
Become Microsoft Certified Educator
If you want to learn about the advanced features of innovative teaching, this course is for you! Microsoft Certified Educator (MCE) is a professional development program that enhances the skills needed to provide rich, customized learning experiences for your students that incorporate critical 21st century skills.
Why Microsoft Certified Educator?
Learn to apply 21st Century Skills in Classroom
Become experts in 15+ Microsoft for Education Tools
Learn 10+ AI Tools to enhance your work
Create engaging and interactive online and physical classes
Stand-out with Microsoft Certification
Book a Free Professional Development Program for your School Teachers
Under this module, educators will learn how to apply 21st Century learning design rubrics to classroom scenarios using Microsoft tools.
Certification Details and Syllabus
Microsoft Certified Educator is a certification by Microsoft. Microsoft Certified Educator exam is about applying 21st Century learning design rubrics to classroom scenarios using Microsoft tools. To successfully pass this exam, candidates need to master the 21CLD curriculum and have a working understanding of a variety of Microsoft tools.
Determine the level to which a learning activity meets the rubric for collaboration
Modify a learning activity to meet the rubric for the highest level of skilled communication
Evaluate student product examples to determine the level to which they meet the skilled communication rubric
Determine the level to which a learning activity meets the knowledge construction rubric
Transform a didactic learning situation into an activity that requires students to apply knowledge in a new context that facilitates interdisciplinary learning
Determine the level to which a learning activity meets the rubric for self-regulation
Determine which opportunities facilitate an environment of self-regulation
Determine the level to which a learning activity meets the rubric for real world problem solving
Select a strategy to encourage students to problem-solve, innovate, and apply a solution that benefits others in the real world
Determine the level to which a learning activity meets the rubric for use of ICT learning
Fulfill student learning outcomes by using Microsoft technology tools
Determine which ICT resource supports a specified educational outcome
Determine the appropriate pedagogical approach to meet an educational outcome using ICT resources
Select an appropriate ICT resource to reach a professional development goal
Evaluate responses to a scenario involving Digital Citizenship
Graphic Design for Education
Video Editing
AI in Education
Introduction to Coding
Gamification in Education
Interactive Learning Experience
AR/VR in Education
Subject Specific Apps

Languages
Social Science
Science
Mathematics
Preschool
Productivity Tools
*Recently added – Microsoft Bing and ChatGPT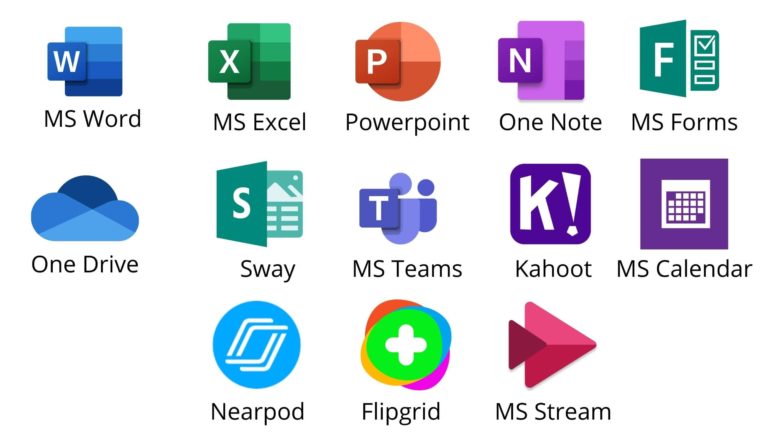 *Additional Tools covered in the Training program which are not from Microsoft but can be integrated with Microsoft Tools
Benefits of this certification for you
Help you to make your classroom more engaging and interactive & reduce the workload.
Become an Expert in using Digital Tools in Teaching: The most demanded skill sets after Covid 19 for Educators.
Gain deeper understanding of using digital pedagogy in Lesson Plan.
Help you to transform your school/college / Private Tuition classes by using digital tools.
Equip teachers with clear and practical ways to develop 21st skills using digital technologies in their classroom with students.
Helps design enriching lessons by embedding 21st Century Skills into practice.
Educators have the opportunity to actively participate and by engaging in ongoing discussion as part of a community of learners.
Learning of AI tools will help you in better lesson planning and ease of work
Complete the training program
Register for the exam by paying the fees
Write exam at the comfort of your home
40 Questions, Duration: 60 minutes
Get the result immediately after completing your exam
If you are passionate about education and want to become proficient in using Digital Tools in Education, then this certification is for you.
Instructor Led Training
Online Reading Material
Regular Doubt solving sessions
10+ Assignments and feedback
12+ Masterclasses
Mock Exams
Training Program Fee:
Rs.8,900 + 18% GST for each participant
Rs. 4,400 exam fees & Rs. 3,000 Masterclass fees included for limited time period
Batch Date:
Recorded Video lectures on all the topics
Step by step instruction guide
Forum for doubt solving
10+ Assignments and feedback
8 Masterclasses
Mock Exam
Training Program Fee:
Rs.6,900 + 18% GST for each participant
Sonam Chavan
Microsoft Certified Trainer | Global Teacher Accreditation | 400+ Teachers trained​
(Tap to view profile)
Ms. Sonam is an educator who has been teaching international curriculum for the past 13 years. She is a Certified Microsoft & Google Certified Trainer. She has been awarded the Global Teacher Accreditation with Distinction by the British Council.
She was invited by MyGov to interact with the Honorable PM of India, Shri Narendra Modi to share her views on the current scenario of Inclusive Education in schools in India. She has trained over 1000+ teachers in her career span.
Ankush Bhandari
2000+ Trained | 1000+ Schools and Colleges | Google Certified Trainer
(Click here to view profile)
He is one of the leading trainers in India to teach "Technology to Trainers" & he is also a Google Certified Trainer to teach Google tools to educators. In the previous role, he was heading an NSDC partner company. Under his leadership, the company has trained more than 15,000 students & professionals on Data Science, Finance, Accounts and Digital Marketing at 15 different locations across India.
I know powerpoint, words and excel, then how will this certification be useful to me?
You will learn advanced features of word, excel and PowerPoint to help you enhance your teaching and learning process.
What will I learn about the Microsoft for Education Tools?
You will gain a deeper understanding of effectively using the Microsoft tools to improve the teaching and learning process. The course will focus on tools such as MS Teams, One Note, Advanced Word, Excel and PowerPoint, MS Forms, MS Sway and many more.
How does this program benefit me as an educator?
Microsoft Certified Educator Program equips teachers with advanced digital tools to not only use them effectively in an online school but also to use the same in an offline physical school or a hybrid school. It also helps in ease collaboration with your colleagues.
How does this program benefit me as a school leader?
It helps you gain knowledge about the digital tools that aids teachers to deliver innovative teaching methodologies in the classroom thus benefiting the students at large. It therefore helps you to integrate Microsoft tools efficiently in your existing curriculum structure.
upEducators, an initiative of Tech For Educators, is an Institute started to empower Teachers with Technology to create digital classroom at zero cost, to promote their training institute and to reduce the digital divide between Teachers and Students.
1000+ Satisfied Educators
Video reviews of 250+ educators
Carefully crafted by industry-leading professionals
Join Community of 2,25,000+ Educators on Social Media
Educators feedback on our Training Course
We have special counsellors available for you