Learning must never stop. And what is a better way to expand our knowledge than to pick up a good book? Educators are responsible for teaching and educating the next generation. Thus, they are required to keep expanding and growing their knowledge. Reading books can help teachers stay updated and explore new ways.
Teachers might not get time from their busy schedules to devour a book. But certain professional development books and educational books are a must-read for every teacher.
With intensive research and discussion with hundreds of teachers, we, at upEducators have curated a list of must-read books for every educator. So without much further ado, let's explore these books.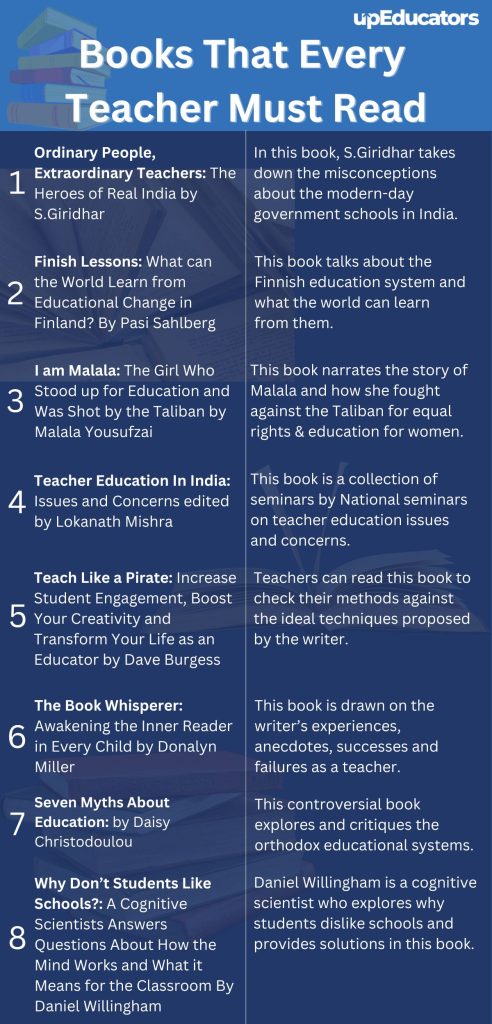 Ordinary People, Extraordinary Teachers: The Heroes of Real India
The negative narrative around government schools in India remains unchanged. The lack of infrastructure, absenteeism and teacher shortage are contributing factors that defame government schools in India. In this book, S.Giridhar the first registrar and COO of Azim Premji University is all set to take down the misconceptions about the modern-day government schools in India. 
S. Giridhar has spent nearly two decades studying and documenting public education in India. In this book, he talks extensively about the educators who have made a difference in public education in India. The text discusses how certain teachers and headmasters have transformed public schools by getting the community involved. He throws light on the efforts of these teachers to arrange books, improve infrastructure and even decrease teacher absenteeism. The dedication of these extraordinary teachers has motivated parents of migrant children to send their kids to school instead of earning daily wages. This is a must-read book for every individual associated with the education system in India to understand the public school systems in India.
Amazon Ratings: 4.6/5
GoodReads Ratings: 4.5/5
Buy here
Read more about the author here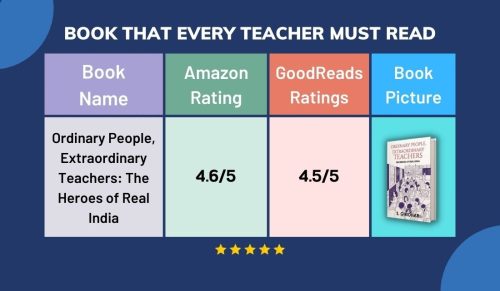 Finish Lessons: What can the World Learn from Educational Change in Finland? By Pasi Sahlberg
The education system is the backbone of any economy or society. To bring positive changes in the community, education systems need focus and attention. Finland was one of the first nations to realise that only the revival of an education system can help the country compete with the big western powers in this era. Hence, Finland took the best measures to improve the education provided to the citizens. Firstly, it focused on ensuring that every teacher in the country completes a post-graduate course before joining the workforce. This way, even primary teachers were able to contribute to academia. Finland as a country took bold steps to transform the education system and it is now one of the best education systems in the world. This book by Pasi Sahlberg talks about the Finnish education system and what the world can learn from them.
Amazon Ratings: 4.4/5
Goodreads Ratings: 3.9/5
Buy here
Read more about the author here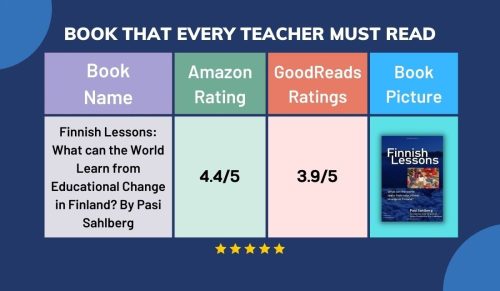 I am Malala: The Girl Who Stood up for Education and Was Shot by the Taliban
Malala, a Nobel peace prize winner, had a very challenging yet incredible journey. This autobiographical account tells the story of how Malala, a young Pashtun girl from Mingora fought against the extremist regime of the Taliban for equal rights and education for women. The story revolves around the struggles faced by Malala and other girls and women under the rule of the Taliban. Malala gained popularity in the West and even locally with her speeches, discussions and views on women's education. The Taliban did not like how she was becoming successful in spreading awareness about women's education. She was finally shot near her brain by the Taliban and she ended up in a hospital in Birmingham for surgery. The journey to getting equal rights for women's education under the rule of the Taliban is a long one. But Malala received the Nobel Prize for her efforts to make the world aware of the plight of women under the Taliban's rule.
Amazon Ratings:4.5/5
Goodreads Ratings: 4.1/5
Buy here
Read more about the author here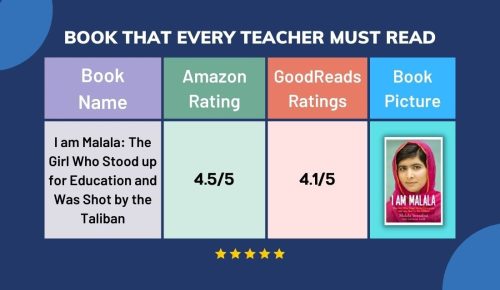 Teacher Education In India: Issues and Concerns edited by Lokanath Mishra
This book is a collection of seminars by National seminars on teacher education issues and concerns. The text deals with the issues related to teacher training with special reference to North East India. These seminars are collected in essay forms in this book and talk about the importance of good teachers in shaping the fate of a nation. It not only finds the problems but provides solutions to improve the plight of teachers in the country. 
Amazon Ratings: 4.5/5
Goodreads Ratings:4/5
Buy here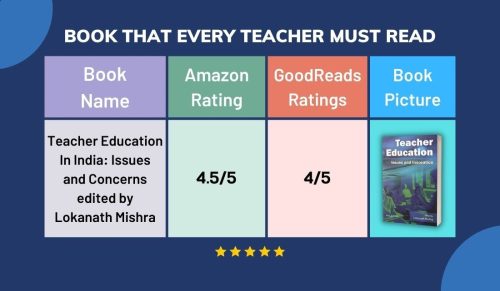 Teach Like a Pirate: Increase Student Engagement, Boost Your Creativity, and Transform Your Life as an Educator by Dave Burgess
The title of this acclaimed book might have a lot of people confused. PIRATE stands as a mnemonic device or an acronym for the teaching techniques promoted by Dave Burgess for teachers. The first part of the book discusses these methods while the second part presents various hooks for teachers to adopt in the classroom to increase engagement. This is a must-read book for fresher teachers and experienced teachers can read this book to check their methods against the ideal techniques proposed by the writer. 
Amazon Ratings: 4.7/5
Goodreads Ratings: 4/5
Buy here
Read more about the author here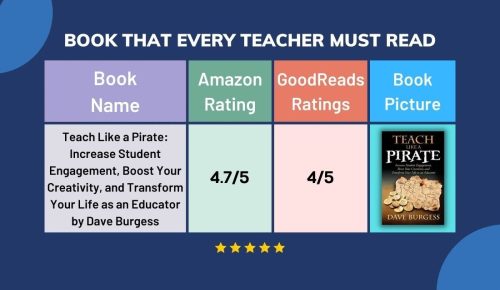 The Book Whisperer: Awakening the Inner Reader in Every Child by Donalyn Miller
Reading is the only way to increase your knowledge. But not every child is born a reader. In this book, the teacher and writer, Donalyn Miller shares the journey of instilling a love of reading in every student. The book is drawn on the writer's experiences, anecdotes successes and failures as a teacher. It is a must-read text for every educator to help their students develop a love for reading.
Amazon Ratings: 4.5/5
Goodreads Ratings: 4.7/5
Buy here
Read more about the author here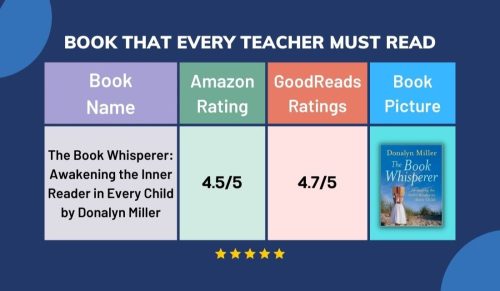 Seven Myths About Education by Daisy Christodoulou
This controversial book explores and critiques the orthodox educational systems. Daisy, an educator teaching in challenging environments has displayed the disparities between actual classrooms and scientific principles. She discusses the seven fundamental myths that hold back teachers and students in a learning environment which are:
Facts prevent understanding

Teacher-led instruction is passive

The 21st century fundamentally changes everything

You can always just look it up

We should teach transferable skills

Projects and activities are the best way to learn

Teaching knowledge is indoctrination
Christodoulou discusses each myth and explores the practical applications and worrying effects of these practices. She also projects the role of governments and educational organisations in affecting the quality of education. This is a must-read boom for every teacher and every individual related to education.
Amazon: 4.5/5
Goodreads: 4.2/5
Buy here
Read more about the author here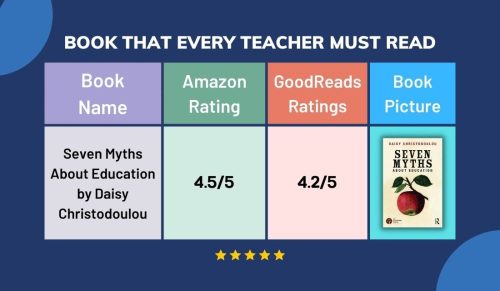 Why Don't Students Like Schools?: A Cognitive Scientists Answers Questions About How the Mind Works and What it Means for the Classroom By Daniel Willingham
The complete title of the book is self-explanatory to know why this is an important book for every teacher. The author, Daniel Willingham is a cognitive scientist who first explores why students dislike schools and concludes after logically explaining the primary cause of absenteeism from schools. 
The author does not stop by identifying the problem as the readers find solutions to increase engagement in the classroom. The author's research on biological and cognitive learning helps develop the main argument and solutions in this book. It is a must-read text for every teacher to understand a child's psychology and cognitive patterns in learning.
Amazon: 4.6/5
Buy here
Goodreads: NA
Read more about the author here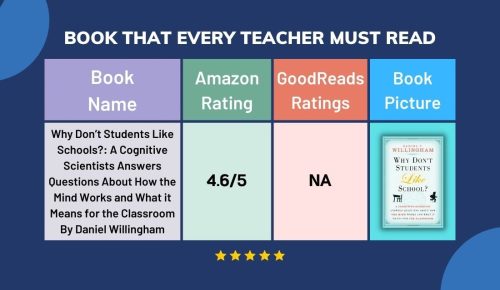 The Art of Being a Brilliant Teacher by Gary Toward, Andy Cope and Chris Henley
A final entry for the Education Resources Award 2017 in the Educational Book Award category, this book is a well-researched resource for modern educators. 
In their book,  Gary Toward, Andy Cope and Chris Henley explore what it takes to be a great teacher. They share their personal experiences and offer advice on everything from dealing with difficult situations to maintaining a healthy work-life balance.
The book is full of useful tips and is a must-read for anyone considering a career in teaching. Toward, Cope and Henley are all experienced teachers themselves, so they know what they're talking about.
Their advice is both practical and inspiring. The book is divided into 9 chapters. Some of the interesting titles for the chapter include "Spaghetti junction" or "Let the force be with you." These interesting chapters are filled with even more interesting details. For instance, the chapter titled "Rules of Engagement" covers topics like how a teacher must speak to sound more interesting and how educators can deal with latecomers. It is a complete package for teachers to explore different dynamics of their profession and become better at their jobs.
Amazon: 4.6/5
GoodReads: 4.2/5
Buy here
Read more about the authors here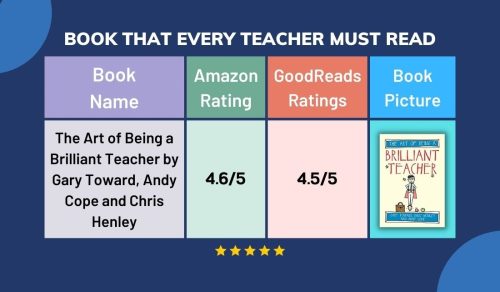 The First Days of School: How to Be An Effective Teacher by Harry Wong and Rosemary T.
If every new teacher could read this book before stepping into the classroom, then they will have a better hold on their class at the beginning itself. The book provides a proper guide for not only freshers but even experienced teachers. The text offers a detailed understanding of classroom procedures, methodologies, principles, etiquette and even behaviours that teachers can adapt for better learning. 
Teachers have difficulty being friendly with the students without crossing the boundaries of professionalism. But with this book, every teacher can learn how to stay friendly yet professional in the classroom. Such is the impact of this book that it gives you years of teaching experiences in just about 300 pages. 
With over 3.6 million copies sold, this book is the best guide for classroom management any educator can ask for. The book has become a guide for more than 2000 classrooms at college and school levels in 116 countries. 
Amazon Rating: 4.6/5
GoodRead Rating: 4/5
Buy here
Read more about the authors here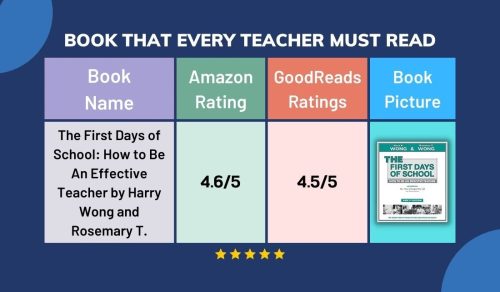 We all learn how books are a man's best friend. Reading can open up new horizons and take us to new places, crossing physical boundaries. Teachers must keep upskilling themselves with new opportunities to learn and grow. Reading is the best way to expand your knowledge as a teacher.
Author: This article is written by Samiya Rashid for upEducators blog.