Teachers are overwhelmed with juggling through planning and preparing lessons, conducting classes and making sure that their students are not misbehaving. It is a big task for them to keep track of everything and ensure that everything gets done as per the plan.
Technology makes it easier for teachers to plan exciting and engaging lessons and share their knowledge with students. Virtual reality and educational apps can change the way students learn in the classroom.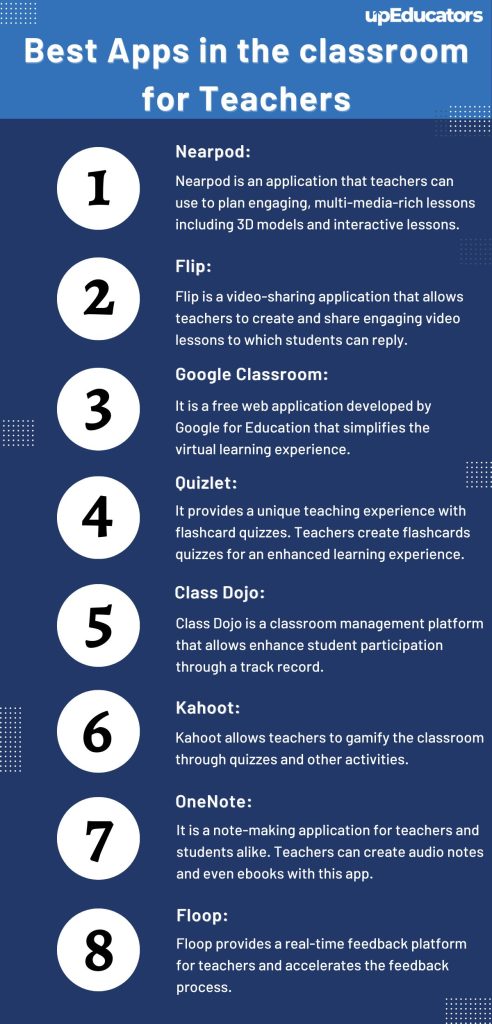 upEducators – A Google for Education Partner Company – has trained more than 5000 teachers in using digital tools and applications in education. We have experimented with and researched various educational apps. Based on the feedback of thousands of educators, the experts at upEducators have found a few tools necessary for digital as well as blended learning environments. 
Here, we have picked the 15 best applications that educators can use in the classroom. In our research, you can find the ratings, downloads, price, grade level and even subjects in which these applications can be used. So sit back and read this blog to explore the best apps in education.
1. Nearpod
Nearpod is a powerful education technology tool that enables teachers to create engaging, interactive lessons for their students. With Nearpod, teachers can easily create and deliver engaging, multimedia-rich lessons including 3D models and simulations, track student understanding in real-time, and provide formative feedback to ensure all students are actively engaged in learning. Nearpod is an essential tool for 21st-century educators and provides a unique, engaging way for teachers to connect with their students.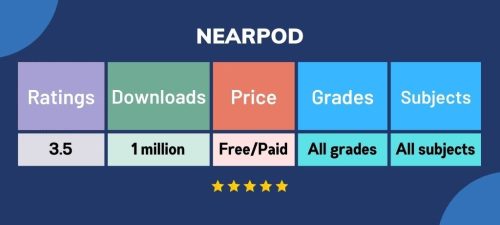 2. Flip
Flip (formerly known as Flipgrid) is a video-sharing platform that allows teachers to create and share engaging video lessons with their students. Students can watch the videos and respond with their videos, creating a dynamic and interactive learning experience. Flip is an excellent tool for teachers who want to add a multimedia element to their lessons, and it's a great way for students to learn by watching and responding to videos.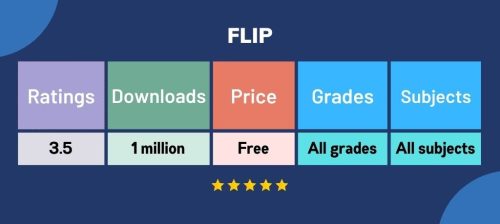 3. Google Classroom
Google Classroom is a free web service developed by Google for schools that aims to simplify creating, distributing, and grading assignments in a paperless way. The platform also provides a safe place for students to access their work and for teachers to communicate with students and parents. Google Classroom is available to anyone with a Google account, which most students and teachers already have. There is no extra software to download or install, and it can be used on any computer or mobile device with an internet connection.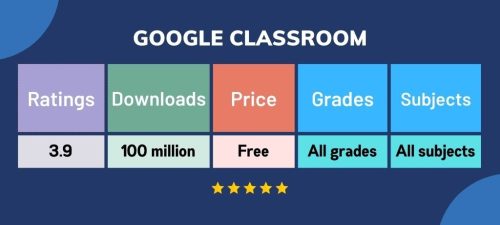 4. Quizlet
Quizlet is a website and app that allows users to create and share online flashcards. It is a great resource for students who want to study for exams, or for anyone who wants to learn something new. Quizlet has a wide variety of subjects to choose from, and users can create their flashcards or use ones that have already been created. Quizlet is a great way to learn, and it's also a lot of fun.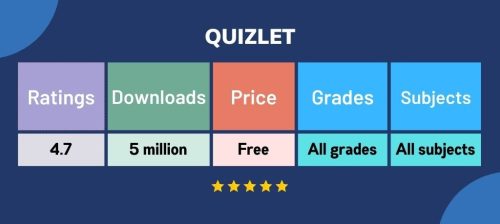 5. Padlet
Padlet is a free online collaboration tool that allows users to create virtual 'walls' where they can post ideas, thoughts, images and files. It's like a virtual noticeboard or bulletin board and is often used by teachers and students as a way to share information and resources or to brainstorm ideas. Padlet is very easy to use – you simply create a 'wall', give it a title and then start adding content. Other users can then view the wall and add their comments, ideas and resources.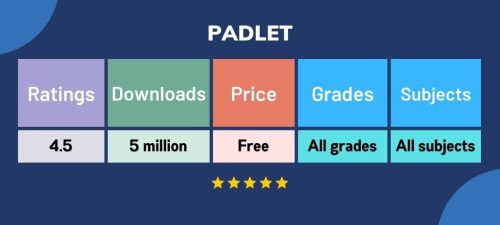 6. Google Jamboard
Google Jamboard is a digital whiteboard that allows users to collaborate in real-time. It is available as a web app and as a mobile app for Android and iOS devices. Jamboard allows users to create and edit documents, spreadsheets, and presentations. It also offers features such as real-time collaboration, video conferencing, and voice messaging.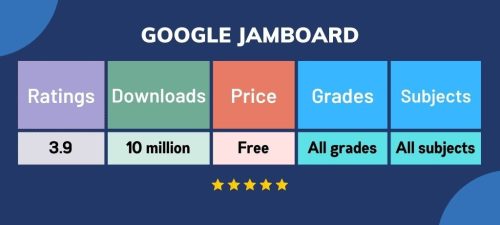 7. Google Earth
Google Earth is a powerful tool that can be used in the classroom to engage students and enhance their understanding of various concepts. With Google Earth, students can explore the world from their computer, tablet, or phone. They can zoom in on specific locations, learn about the geography and history of different places, and even take virtual tours of some of the most iconic locations on the planet. Google Earth is an excellent resource for educators and students alike.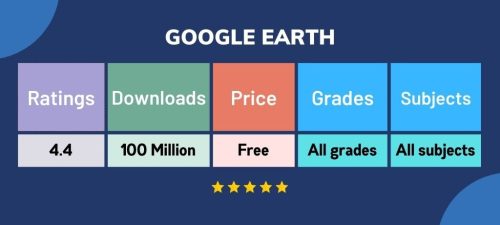 8. Class Dojo
Class Dojo is a classroom management tool that helps teachers keep track of student behaviour. With Class Dojo, teachers can see which students are participating in class, and which ones are not. Class Dojo also allows teachers to give positive and negative points to students based on their behaviour. This system helps teachers to quickly and easily identify which students are behaving well, and which ones need to improve.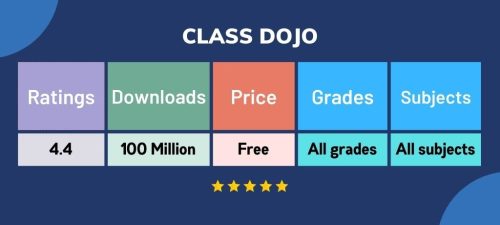 9. Book Creator
The book creator app is a great tool for classroom use. It allows students to create their own books, which can be used for class projects or for personal use. The app is easy to use and has a wide range of features, making it a great option for students of all ages. Teachers can use BookCreator app as a great way to encourage creativity and self-expression in the classroom. They can use it to create their own books for resources and even create notes in a presentable way.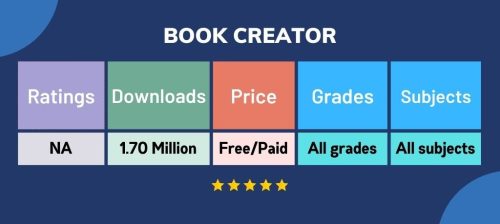 10. Kahoot 
The Kahoot app is a great tool for classrooms. Teachers can gamify the classroom with the help of this application. It allows teachers to create and share quizzes with their students, and track their progress. It also has a built-in chat function so that students can ask questions and get help from their peers.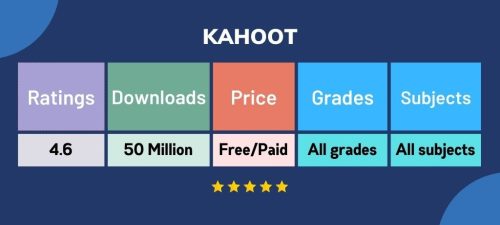 11. One Note 
OneNote is a digital notebook that's great for taking notes in class. It's easy to use and can be accessed on any device. OneNote can be used to type notes, record audio, and even add pictures. It is a great tool for students who want to be more organized and efficient in their note-taking. Teachers can also create ebooks using OneNote and can integrate them with other apps.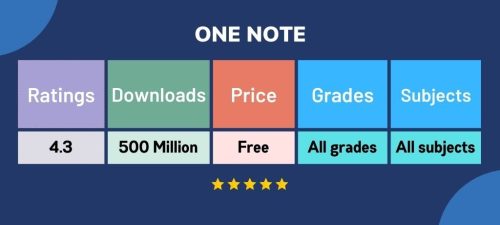 12. Prodigy 
Prodigy application is a gamified way of learning Mathematics. Teachers can create intuitive and adaptive quizzes using this platform based on how students perform during a quiz. The quizzes in Prodigy can be designed like a quest that students can complete and meanwhile learn Mathematics. 
Prodigy also has a variety of other features that can be used to support instruction. These features include a reporting system that gives educators insight into student progress, a question bank with over 50,000 math questions, and a built-in assignment manager. Prodigy can help teachers make Mathematics simpler with gamification.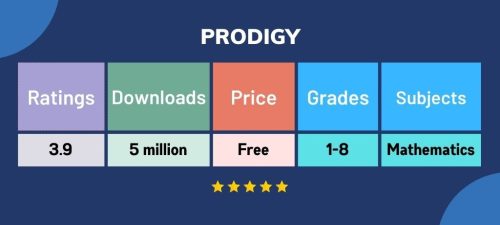 13. Floop 
Feedback is a crucial part of learning. With Floop, feedback happens in real-time and delay in feedback is avoided. Students can upload their assignments or projects instantly on Floop. Teachers can add comments with simple steps and even add old comments to the same mistakes. 
The Floop app is a great tool for classroom learning. It allows students to interact with each other and the teacher in real-time, making learning more interactive and engaging. Teachers can use Floop for feedback in various ways. Students can assess themselves using Floop. Teachers can use single feedback with multiple students easily and it even enables anonymous peer feedback.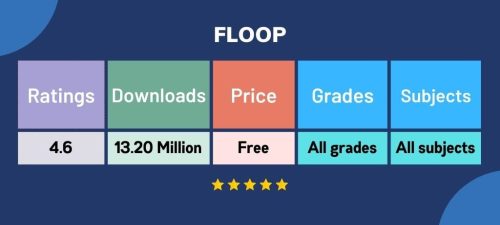 14. Thinglink 
Thinglink is an ideal app for the classroom because it allows students and teachers to create interactive images. This means that students and teachers can add labels, videos, and other information to an image to create a more immersive and informative experience. This is a great way to engage students in learning, and it also allows them to share their work with classmates and teachers.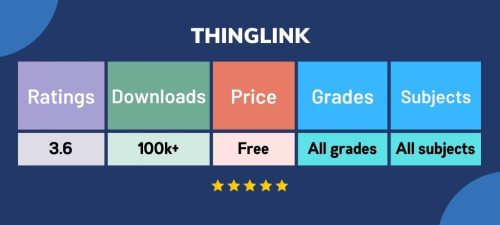 15. Bamboozle
Bamboozle is a great app for classroom use. It allows teachers to create team quizzes and games for their students to play. It also has a leaderboard feature so student teams can compete against each other. The app is very user-friendly and helps to keep students engaged in the learning process.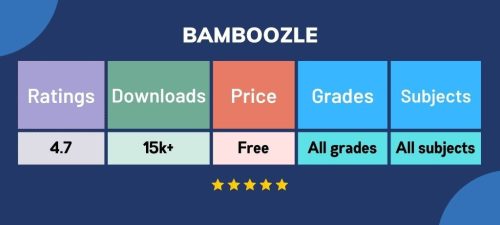 If you are looking for a way to make teaching more enjoyable and to make tests more engaging, try using these apps in the classroom. Apps can be a way to spice up your lessons and make long tests more bearable for students. Some apps can even be used for the whole class. Here are some of the best apps for teachers.
Becoming tech-savvy is a must-have skill for teachers in the 21st century. Teachers can use YouTube to learn the functioning of these educational apps and tools. But if you are more inclined toward a live and interactive learning environment then upEducators has the best courses for you. Courses like Google Certified Educators, Microsoft Certified Educators and Coding for Educators can help teachers become certified users of educational technology.
Author: This article is written by Samiya Rashid for upEducators blog.