If you are an educator, then you must be looking out for ways to reach out to more students. Teaching in the present age is full of opportunities. Educators can use the digital space and expand their classrooms across geographical boundaries.  
The digital world is a competitive space. Millions of online courses are developed every day and sold to billions of learners. How does one stand out in such a situation? This is where digital marketing comes into play and educators can benefit a lot from the correct digital marketing strategies. But what is digital marketing and how does learning digital marketing skills benefit educators? Keep reading to find out.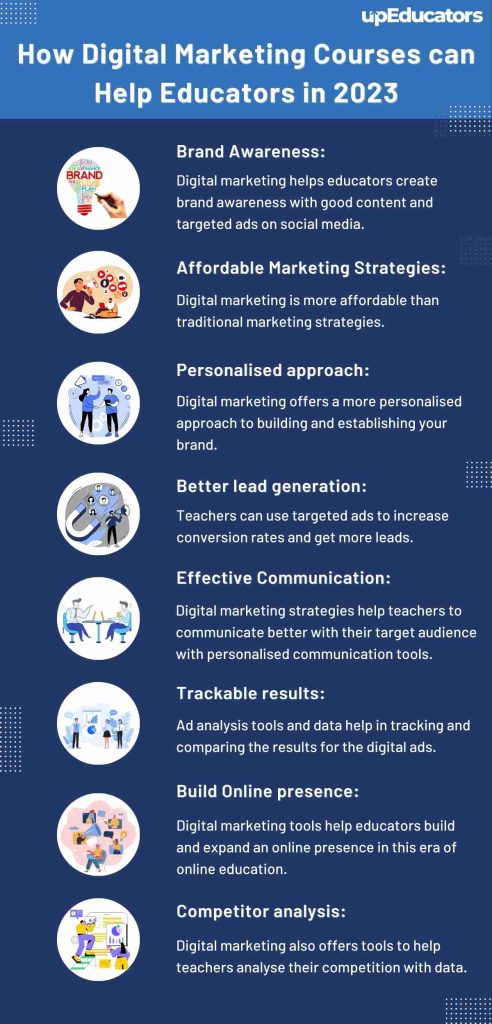 What is Digital Marketing??
Imagine you have created a very useful product or a service. In a traditional marketplace, you have to put banners, run traditional advertisements like newspaper ads and spread awareness about your product with the word of mouth.
Now imagine you are selling the same product or service on an eCommerce platform or a digital platform. The traditional advertisement strategies would never work in a digital space. In the virtual world of digitization, digital marketing is the most effective way to reach out to your target audience and grow your business. There are different types of digital marketing strategies used by sellers or service providers like:
Search Engine Optimisation

Social Media Marketing

Price per Click

Email Marketing

Content Marketing

Affiliate Marketing

Sponsored Content
The digital world is evolving every day and so are the digital marketing strategies. There are over 25 million business profiles on Instagram and every brand tries to build a unique digital marketing strategy according to its niche and target audience. Educators, too are using various digital platforms to reach out to a global community of learners. Here are some of the benefits you too can reap as an educator from learning digital marketing strategies.
Benefits of Digital Marketing for Educators
1. Brand Awareness
According to Investopedia, "the degree of consumer recognition of a product by its name" can be termed brand awareness. Today, educational channels like Khan Academy are considered a reliable source of knowledge as they have successfully built their brand awareness. 
Building brand awareness is the key to building your educational brand. It is one of the many benefits of learning digital marketing for educators. The three steps  to building brand awareness are:
Create good and valuable content

Run targeted digital advertisements on different platforms

Deliver what you have promised.
2. Affordable Marketing Strategy
A Science tutor installed promotional posters at various locations in the city. The posters cost her INR 10,000 and she could not reap the Return on Investment through the traditional marketing strategy. 
On learning digital marketing strategies, she ran three digital ad campaigns costing a total of INR 4000 and did not only get the desired Return on Investment but was prompted to start an online course for remote learners. 
Digital marketing is more affordable than any form of traditional marketing strategy. Users and content creators can run digital ads under INR 100 and target more than 2000 people with a single ad. Digital marketing is hands down the most effective and affordable marketing strategy one can use in 2022 to grow their educational brand.
3. Personalised Approach
Digital marketing strategies are built with the help of data. This data affects the algorithms and every user on a digital platform is displayed the kind of content that he usually interacts with daily. If a learner or one of your students searches for your content, likes, shares or comments on your posts, then the algorithm might work in your favour and show your content to this user more frequently. 
This helps in building a personalised feed for users and the content creator. Creators can figure out their audience and create personalised content according to the niche and audience.
4. Better Lead Generation
Every business page on Instagram or every business channel on YouTube is creating content for a single purpose- lead generation. Lead generation is the main motive of digital marketing and we can count it as one of the most important benefits of learning digital marketing strategies. 
Lead generation, in simple words, is attracting and transforming users into sales. Digital marketing strategies help in better lead generation. For instance, strategies like targeted ads and remarketing help in escalating lead generation for a business. Even educators can run remarketing ads to target potential clients and see a higher conversion rate with the help of the correct digital marketing strategies.
5. Effective Communication
Advertising is based on communicating the benefits, features and uses of a product or service. A good digital marketing strategy can help in effective communication for brand building and survival. 
Identifying your brand message, finding a medium to convey your message and finding the target audience for your message are the essentials to brand communication. A digital marketing strategy can make your communication strong and effective.
6. Trackable Results
Televised ads, newspaper ads or any form of traditional ads can be effective for certain brands. But despite the success rate, such ads can never give you trackable results. This is the biggest advantage of using digital marketing. Advertisers get access to all the data related to a particular ad and they can even use this data to build a better strategy. 
Trackable results make digital marketing strategies more effective and useful for advertisers. So the next time you want to see trackable results from an ad campaign, you must use digital marketing and advertisement strategies.
7. Build Online Presence
The education industry is shifting to online platforms. More learners are interested in remote and distance learning as they get access to more resources in such an environment. It is essential for teachers in the 21st century to build a social presence. 
Educators who want to multiply their earnings can only do so by using digital platforms and digital marketing strategies. Whether you build an educational Youtube channel, sell courses through your website or make short informative content, you have to rely on digital marketing strategies to build and grow your social media presence.
8. Competitor Analysis
With millions of creators and educators selling courses online, advertisers need a strategy to analyse the competitors and build content and marketing strategies that would help in scaling. This can only be achieved with the help of learning digital marketing strategies. Various marketing strategies in the digital world would help you in staying a step ahead of your competitors.
Contrary to the popular narrative, digital marketing is not limited to product-based brands. Educators and teachers can benefit a lot by learning various digital marketing strategies. Selling courses and lesson plans is a big market in the digital world as every online user is thirsty for informative and valuable content. 
Educators can enrol on a specialised digital marketing course and learn the essentials of digital marketing for the education industry. upEducators offers a specialised Digital Marketing Course for educators. The course has been designed keeping in mind the needs of digital educators and can help educators in scaling their education business through the best digital marketing strategies. It is the only digital marketing course focused on the needs of educators and teachers.
Author: This article is written by Samiya Rashid for upEducators blog.