One of the best feelings as a working professional is to complete an eight-hour shift and go home and relax. But sadly this is just a dream for you if you are a teacher.
"Teachers get summer vacations"
"Teachers work only until 3:00 pm"
Are you tired of hearing these words? Do you always have the urge to scream every time you hear these words? Are you tired of explaining to people that these words are far from reality? Don't worry, as millions of overworked and underpaid teachers across the country share the same sentiments with you.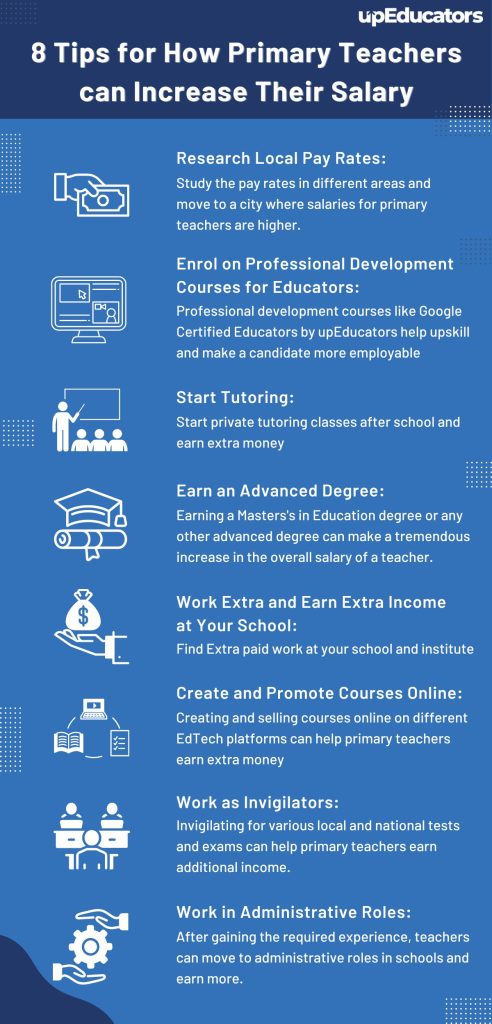 Teachers work for 30+ unpaid hours every week. Most educators working in educational institutes are unable to complete their work during working hours. As a result, grading, assessment and lesson planning are carried out during the "free time." 1 in 3 teachers leaves their job within 5 years of starting their career. This can be attributed to the fact that teachers across the world are highly underpaid.
According to UNESCO's State of the Education Report for India 2020, 42% of teachers are paid less than Rs 10,000 a month both in the private and government sectors. While it is high time for the authorities to stop the exploitation of educators, teachers can take matters into their hands. Yes, there are certain strategies and practices that teachers can use to increase their annual salaries.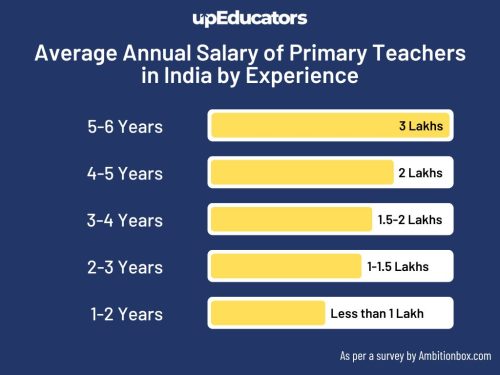 Factors affecting the salary of teachers
An annual package for an educator is based on various factors. The educational background, level of experience, job location and job role based on the subject one teaches are some of the deciding factors for the annual salary of a teacher. Higher secondary teachers and professors in colleges can have decent earnings but primary school teachers are the ones who suffer the most. Even though they work the same number of hours, they are highly underpaid. Let us look at some of the ways to increase the salary of underpaid primary school teachers.
How to Make More Money as a Primary Teacher?
Research your local pay rates
The salaries for any profession are different in different locations. For instance, teachers are paid more in the USA as compared to the ones working in India. Even in India, teachers in rural areas, tier-two or tier-three cities are likely to be paid less than the ones working in metropolitan or tier-one cities.
Teachers can switch locations and increase their pay. Spend some time researching the payment scale at various locations and apply to the institutes that offer the salary that you want.
Professional Development Courses for Educators
Teaching is a dynamic profession as innovation in education technology is still taking place. Teachers can keep their skills and knowledge relevant by upskilling every now and then.  Various professional development courses and opportunities are provided by schools and educational institutions for educators. 
Enrol on these professional development courses and hone your skills as a teacher. Teachers can learn specific skills according to their interests and job roles. For instance, learning digital pedagogy and modern educational tools and technologies can help you in becoming a 21st-century educator. Teachers can become certified digital educators by enrolling on various digital certifications provided by platforms like Google, Microsoft and even Apple. 
Educators can upskill with the help of asynchronous or recorded courses on educational platforms like Udemy or Upgrad. But live and interactive courses with engaging curricula can help one in learning better. For instance, teachers can join online courses by upEducators like Google Certified Educators, Microsoft Certified Educators, Digital Marketing Course for Educators and Coding for Educators to learn new-age skills and get more earning opportunities.
Coaching classes and private tutoring is the number one preference for teachers to earn extra income. Most teachers are overworked and are unable to take out time for conducting private tutoring. But with the correct time-management strategies, teachers can work between two shifts and see an immense increase in their income. 
Private tutoring requires only 2-3 hours of work after school and teachers do not need to work extra on lesson plans. If a teacher is earning more from private tutoring, then they can become a full-time private tutor. It has many advantages as you are your boss. Teachers can also increase their student base by using remote education tools and learning digital marketing strategies to expand their private tutoring business.
Two teachers from the same school who worked in the same job role were paid different salaries. One of them earned a Master's Degree in Education and another Master's Degree in her subject. While the other, who was paid less, had only one Bachelor's degree in Education.
Earning advanced degrees is advantageous for teachers in terms of increasing their pay scale. Additionally, advanced degrees hone one's skills and knowledge and make one gain competitive advantages over their peers.
Work and Earn extra income at Your School
One of the easiest ways to increase your pay scale as a teacher without much stress is to find extra paid work at your school. Many schools offer teachers opportunities to work extra hours and earn additional income.
Keep yourself updated and build connections with the authorities and senior staff members in your school. Work on your skills and build expertise in areas that can offer you monetary value. But make sure that your school is paying you for working on these supplemental tasks. Skill Development Courses, certifications and Diplomas can help you in working and earning extra with your current job roles.
For instance, Ms Koyel, an English, EVS and Maths teacher from International Public School, Kolkata worked and earned extra in multiple ways after completing the Coding Course for Educators by upEducators. Firstly, her colleagues approached her to help their children in learning to code. Ms Koyel's daughter was able to learn coding with her as well. Secondly, two of her students from school approached her to learn to code. And lastly, Ms Koyel's school administration was able to introduce coding in the academic curriculum due to the expertise she gained after completing the Coding for Educators course by upEducators. 
Watch her talk about her experience after completing the Coding for Educators Course by upEducators in this review video.
Create and Promote Courses Online
The e-learning market is expected to exceed $300 billion by 2025. Many students are signing up for online courses offered by various digital learning platforms. In India, digital educational platforms like Byju's, Unacademy and Udemy have made staggering progress over the last few years. 
Teachers can rely on these platforms to promote their courses and earn extra income. All kinds of courses sell on these platforms. If you have expertise on a subject and a will to learn digital education strategies and tools, then you can make a fortune by selling your courses and lesson plans over these platforms. 
Moreover, learning digital marketing strategies for educators can give you an upper hand in reaching out to students interested in your courses from all over the world. Enrol on a digital marketing course for educators and grow the audience for your courses. Or teachers can use Youtube to earn extra income. A Youtube channel starts monetising after a certain number of views. Sharing quality and valuable content can help you get millions of views as an educator. Educators can grow this channel with the help of the right digital marketing strategies. For instance, educators can enrol on Digital Marketing Courses specially designed for educators like the one offered by upEducators and learn to grow their online courses.
Work as Proctors or Invigilators
A lot of entrance and competitive examinations take place throughout the academic year. Teachers can turn these examinations into an earning opportunity. Both offline and online examinations require invigilators or proctors for supervision. The job is quite simple and teachers can earn a good passive income by invigilating during such examinations.
Stay updated regarding the various examinations and research how you can land an opportunity to supervise these examinations. Proctors in India get paid INR 10-15k per month. Teachers can work as invigilators and proctors during their break or free time.
Work in Administrative Role
Transitioning to administrative roles in a school can help you in leaping forward in terms of money. It takes a lot of experience and skills to work in administration roles like becoming a Vice-principal or Principal. But teachers can also join the administrative team of a school by working as operations managers, curriculum developers and school leaders and see an increase in their income.
Find out the qualifications, skills and experience required for becoming a fit candidate for these roles in your school. Work towards developing those skills and gaining the right experience. Apply for such positions and get hired in such roles to increase your income as a teacher. Most school administrators work closely with an academic environment and thus it will keep you close to your field but give you new experiences.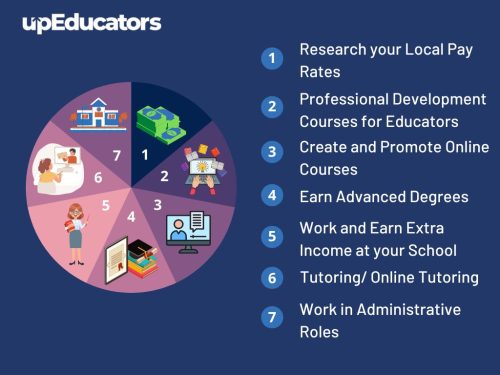 Teaching, like medicine, is a purpose-driven profession. But while medical professionals are earning more than 30 lakhs annually, teachers are still highly underpaid. Teaching is a profession that gives birth to other professions.
Teachers spend a fortune in gaining multiple degrees to become good at their jobs and thus, deserve a decent annual package. We need new policies to pay teachers the salary they deserve. But until the authorities realise this, teachers can work towards upskilling and earning badges that would help them monetize their skills. After all, self-help is the best help.
Author: This article is written by Samiya Rashid for upEducators blog.