Pursuing a career in teaching is a long journey of getting the right qualifications, gaining the necessary skills and then practising it to educate young minds. Teaching is a very respected and noble profession. Teachers look after the academic development and even emotional development of their students. While some people are born with the skills to teach most individuals can gain those skills with the right qualifications and professional development courses.
After getting practical insights from hundreds of teachers, we, at upEducators have come up with a list of the best teacher training courses and professional development courses for educators. These courses are based on their levels and duration.
Types of Courses based on levels and duration
Certificate courses

Diploma Courses

Bachelors degrees

Masters degrees

PhD courses
There are also courses for teacher training based on skill development and upskilling. Let us dive straight into the list of courses.
Courses to teach at the School level
Nursery Teacher Training Certificate
Pre-school teachers are in demand these days as parents send their children to nurseries and preschools at an early age. The Nursery Teacher Training certificate or NTT is a certification course that makes a person eligible to teach as a preschool educator. The coursework for this certification involves modules such as Child Development, Early Childhood Education and Teaching Methods. The eligibility criteria to enrol on this course is to have a minimum score of 50% in the 12th board exams. Some colleges publish a merit list and give admissions to the students making it to the list. 
Best colleges to pursue NTT in India: 
Bharatiya Shiksha Parishad, Lucknow

YBN University, Ranchi

Other state universities and colleges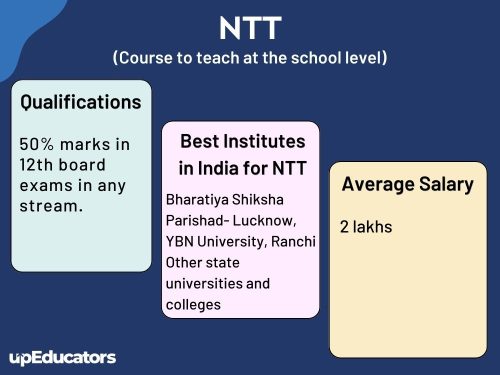 Diploma in Elementary Education (D.El.Ed)

Elementary school teachers are in great demand nowadays with many elementary schools springing p. The D.El.Ed (Diploma in Elementary Education) trains teachers to become elementary educators. A candidate needs to pass 12th board exams with a minimum of 50% aggregate marks. The course duration is for two years. The candidates enrolling on this course are trained to become elementary educators with the right skills and knowledge to train, educate and nurture elementary school students. 
Best colleges to pursue D.El.Ed in India:
Integral Unversity, Lucknow

Jamia Milia Islamia

Adamas University, Kolkata

Ther state universities and colleges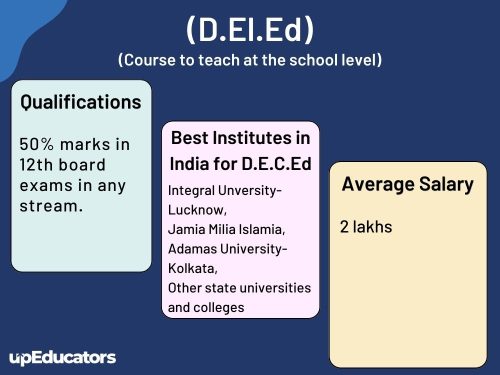 Bachelor of Education (B.Ed)
B.Ed course is a basic requirement to become a secondary or senior secondary teacher in India. The Bachelor of Education degree is a two-year-long post-graduation degree. Candidates with a bachelor's degree in any stream securing a minimum of 55% aggregate marks can enrol on a B.Ed program. The admission is based on an entrance test which needs to be cleared by the applicant. This course can also be pursued after completing a Post Graduate degree or a Masters's program in any subject or discipline.
Best B.Ed colleges in India:
Delhi University

University of Mumbai

LSR College for Women

Benaras Hindu University

Jamia Milia Islamia

Other state colleges and universities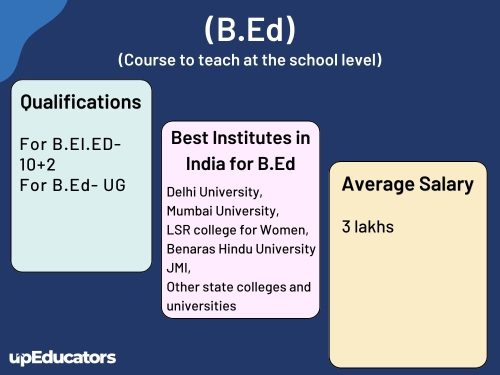 Bachelors + B.Ed Integrated Course
This is a combined degree of Bachelors in Science/ Commerce/ Arts stream and B.Ed (Bachelor of Education). B.Ed degree. B.Ed degree is a basic requirement to become a teacher in India. The eligibility criteria to enrol on a B.Ed degree is to complete a bachelor's degree first with a minimum of 55% marks. It usually takes 5 years to do a regular B.Ed degree after completing an undergraduate course. But the combined degree solves this problem as the duration is only four years. Any candidate who has secured a minimum of 50% marks in 12th can apply for this degree. The candidates can choose the desired subjects to study for this course.
Best Bachelors+B.Ed colleges in India:
Lady Irwin College

IGNOU

University of Mumbai

Christ University

Delhi University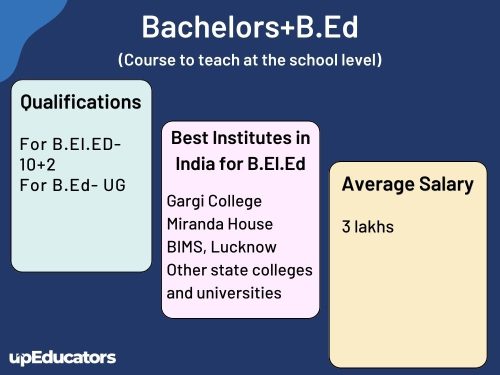 M.Ed
Master of Education or M.Ed is a post-graduate degree in education. Candidates can enrol on this degree after completing a B.Ed course. A candidate must have at least 50% marks in a B.Ed degree to become eligible for an M.Ed degree. Candidates with B.EL.Ed (Bachelor of Elementary Education) and Integrated Education program are also eligible to apply for an M.Ed degree. Most M.Ed courses in India are for two years. But some colleges or universities also offer M.Ed courses for one year. 
Best M.Ed colleges in India:
Delhi University

University of Mumbai

State Universities

IGNOU

Jamia Milia Islamia

SRM University, Chennai
Courses to teach at the College level
NET/SET for Assistant Professor 
Candidates who want to become Assistant professors in a college need to take a different path. To become an Assistant Professor, one needs to complete a master's degree. The candidate then needs to appear in and qualify for exams for the post of assistant professor held at national and state levels like NET/SET. Candidates clearing these exams become qualified to teach as an Assistant Professor in any college/university based on the national or the state level of exam undertaken by the student. A candidate can also apply for a PhD after clearing exams like NET and even receive a fellowship to pursue a PhD program.
PhD
To become a professor, a candidate needs to pursue a PhD program. There are limited ways to become a PhD scholar but a candidate must possess a Bachelor's and a Master's degree. After completing the master's degree, the candidate needs to enrol on a PhD program and complete a thesis or research project which lasts for 3-7 years. After completing the research, the candidate receives the title of Dr. and can also teach as a professor in any university or college offering courses in the relevant subjects. 
Best PhD institutes in India:
Delhi University

IIT Delhi

IIT Bombay

Jamia Milia Islamia

Christ University

University of Mumbai

NITs

Jawaharlal Nehru University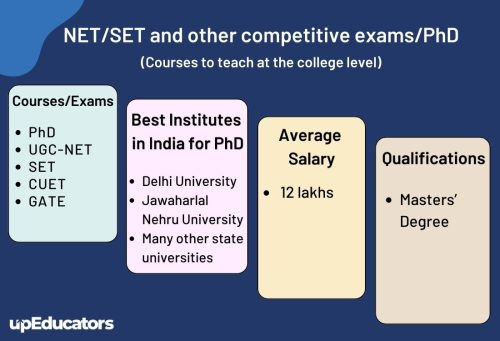 Professional Development Courses
Apart from these courses, a lot of professional development and skill development courses are also available for teachers. Teachers can pursue these courses and certifications to upskill, add new skills to their resumes and even learn and develop new relevant skill sets. There are many platforms like Udemy and Coursera that offer courses for educators to develop new skill sets and learn new things to grow as a teacher.  For instance, teachers in the 21st century need to be well-versed in using educational technology. So every teacher must pursue a skill development certification to learn digital skills and pedagogies.
upEducators offers different skill development courses for teachers. Teachers can choose from these courses and become certified online educators or a teacher skilled in using educational technology in this digital age. The courses offered by upEducators are:
Teachers can pursue such courses to upskill and build their resumes to land the job of their dreams. Such certifications can help educators learn skills required in the 21st century.
Author: This article is written by Samiya Rashid for upEducators blog.