The education sector is becoming more saturated with freshers candidates for teaching equipped with new age skills. Experienced teachers looking for new teaching positions face a lot of competition. The years of job experience give them an upper hand over other candidates. But a lot of teachers' resumes for experienced educators get rejected as some candidates lack the skills to create a well-drafted resume.
A resume is like a first impression. It's a way to showcase your experience and skills to a potential employer. And just like first impressions, you only have one chance to make a good one.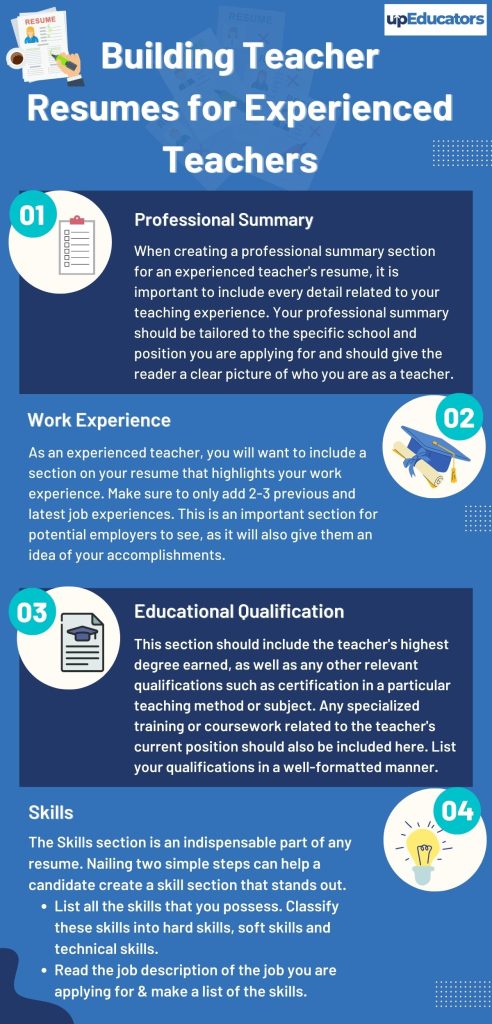 upEducators has worked closely with thousands of educators and has studied various teacher resumes extensively. We know the right and wrong approach to creating a resume, and we're here to help you write an ideal resume that will land you your dream job as a fresher teacher.
This guide is detailed and comes with samples to help you write the perfect resume.
1. Professional Summary
When creating a professional summary section for an experienced teacher's resume, it is important to include every detail related to your teaching experience. Your professional summary should be tailored to the specific school and position you are applying for and should give the reader a clear picture of who you are as a teacher.
To build a strong professional summary section, start by highlighting your years of experience in the teaching field.

Next, highlight your teaching credentials and any specialities you may have.

Finally, mention any awards or recognition you have received for your work as a teacher. Remember to keep the professional summary section brief yet informative. Try to sum up your professional summary in two to three sentences.
Be very specific and avoid generic phrases and words in this section. Use action words and positive language to make a good first impression on the employer.
2. Work Experience
As an experienced teacher, you will want to include a section on your resume that highlights your work experience. List only the last 5-6 years of experience. Make sure to only add 2-3 previous and latest job experiences. This is an important section for potential employers to see, as it will also give them an idea of your accomplishments.
To build this section, you will want to list your previous teaching positions, along with the dates you held each position. For each position, you should include a brief description of your duties and responsibilities.

You can also include any awards or recognition you received during your time as a teacher.

Finally, be sure to list any professional development courses or workshops you have attended, as this will show employers that you are committed to staying up-to-date on best practices in education.
3. Educational Qualification
An experienced teacher's resume should highlight their educational qualifications prominently.
This section should include the teacher's highest degree earned, as well as any other relevant qualifications such as certification in a particular teaching method or subject.

Any specialized training or coursework related to the teacher's current position should also be included here.

This section should be organized chronologically, with the most recent qualifications listed first. List the highest qualification first followed by other degrees and certificates.

List your qualifications in a well-formatted manner. This is how one should list the qualifications in an experienced teacher's resume.
Educational Qualifications
Name of Degree(Duration)
Name of the Institute
4. Skills
An experienced teacher's resume should highlight the skills they have acquired over their years of teaching.
This section should showcase the teacher's ability to effectively manage a classroom, develop a curriculum, and create meaningful learning experiences for students.

Additionally, this section should highlight the teacher's ability to build relationships with students, parents, and colleagues. By highlighting these skills, an experienced teacher's resume will demonstrate their value as an educator.

Remember to include all the hard skills soft skills and technical skills required for a teaching position. Some of these skills include communication, leadership, patience, empathy, teamwork, management, conflict resolution and digital skills.
Pro Tip: Teaching in the 21st century involves dealing with educational technology and tools. Thus, experienced teachers can learn digital skills with various digital certifications like the Google Certified Educators course or Microsoft Certified educators course by upEducators.
5. Other Relevant Sections
Make a separate brief section discussing any additional certifications, training and courses you have completed. This should include:
Name of the Degree

Duration/Year

Name of the Institute
This will give potential employers a more comprehensive understanding of your qualifications.
Publications/Related Projects
If you have any published papers or similar projects, it's always a good idea to include them on your resume. Many Bachelor's and Master's degree programs offer students the opportunity to publish scholarly articles, so adding these to your application can help you stand out from the crowd.
Mention all the language skills you know. List them in the descending order of fluency. Here's how you should write the language skills section in a resume:
Hindi-Native
English- Expert
French- Beginner
6. Other Things to Keep in Mind
Formatting your resume is essential to making a good impression on employers. But before you start formatting, you need to find the perfect template to use as a foundation. Canva is the perfect tool for this, with a wide selection of free templates to choose from. Once you've found a format you like, you can customise the sections with different fonts, colours and indentations to suit your taste.
It is important to check the language used in your resume.
– Ensure consistency in voice throughout and maintain a formal tone.
– Personal pronouns should be avoided.
– Additionally, content should be professional with no negative or unprofessional language. For -example, if discussing weaknesses, portray them in a positive light.

It is also crucial to proofread your resume for typos or grammatical errors. This can create a negative impression. Run a grammar check and proofread your entire document before sending it off.
Many employers use Application Tracking Systems (ATS) to scan resumes for relevant keywords and phrases. These systems can help employees by:
identifying relevant resumes with specific keywords

ranking resumes based on keyword frequency

spotting keyword spamming
If you're a teacher drafting a resume, keep these things in mind. First, look at the job application form and read the job details carefully. Then do some research on the institute. This will help you pick out the relevant keywords and phrases related to the required skill sets for your resume.
Even if you're applying offline, these keywords will help the employer find the relevant skills and details in your resume. In either case, using the right keywords will increase your chances of landing an interview for a dream job.
Resumes are important for increasing your chances of getting hired. They provide employers with a brief overview of your educational background, work experience and relevant skills for the job. If you're an experienced teacher looking for new job opportunities, then a well-crafted teacher resume is essential for reaching new heights in your career.
Author: This article is written by Samiya Rashid for upEducators blog.