Whether one wants to earn extra income with a day job or become a full-time freelance teacher, online teaching or tutoring jobs are the buzzwords in the education sector. With more than 3 million students enrolled on full-time online courses globally, online education has become the preferred career option for educators worldwide.
Even Indian teachers do not fall behind this trend. Youtube is filled with teachers from India taking the world by storm. Indian teachers have a bright future ahead with online education platforms. If you are a teacher who is thinking of making a switch to online teaching, then we have got you covered. In this blog, we will discuss the various aspects of becoming an online educator in India and how one can start with online teaching.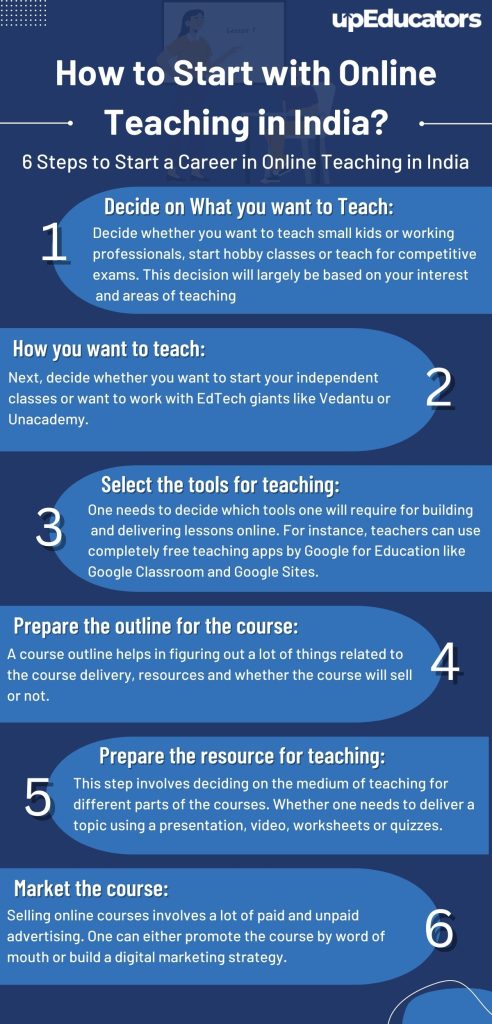 What is Online Teaching?
Online teaching is the process of imparting education via online modes of communication using the internet. Teaching through online modes of learning includes different methods like group video calls, webinars and one-on-one calls. Online classes are conducted remotely and learners and teachers can connect from any part of the world via the internet and smart devices. Online teaching encompasses all kinds of physical barriers and thus it is gaining more popularity in India too.
Is Online Teaching the right fit for you? 
Are you someone who likes to work on their terms from anywhere in the world? Do you want a lucrative stream of income from teaching without relocating to another city with a high-paying job? Online teaching is meant for you if you are comfortable working remotely but one needs to be qualified enough to teach online. 
Firstly, if a candidate has subject expertise, teaching experience or the required qualifications to become a teacher, then they are one step closer to becoming an online teacher. But that's not enough. An online educator needs to be comfortable interacting with educational technology and tools. If you are the one who is tech-savvy and always using different digital tools in the classroom to enhance the learning experience, then online teaching is the ideal career option for you. 
But approaching digital tools and pedagogies is something that can be learnt. Any teacher can learn digital tools and pedagogies and become a successful online educator with the help of many courses available online. Here's how to start a career in online teaching.
Decide on what you want to teach:
Online education is a vast industry with versatility. Teachers not only teach academic subjects but even take hobby classes. Before starting an online course, teachers need to figure out what they want to teach. Whether one wants to teach small kids or working professionals, start hobby classes or teach for competitive exams. This decision will largely be based on your interest and areas of teaching. 
Teachers can also search the popular topics in online teaching using tools such as Uber Suggest, Google Trends, Udemy and Google Search.
How you want to teach: 
The next step involves deciding on the medium of your teaching. Whether you want to start your classes or want to work with EdTech giants like Vedantu or Unacademy. There are many pros and cons to both methods. For instance, building your educational channel or website needs a lot of marketing. Similarly, selling a course on an EdTech platform means you need to pay a commission to that platform too. One needs to weigh the pros and cons of both mediums and then arrive at a decision.
Need to select the tool for teaching:
Online education is conducted with the help of various digital tools and technologies. These tools are used to deliver online classes. Some of these tools are free while others have premium versions. One needs to decide which tools one will require for building and delivering lessons online. For instance, teachers can use completely free teaching apps by Google for Education like Google Classroom and Google Sites. If you don't want to invest and use the best tools, then Google Apps are excellent. Or educators can also buy paid apps like Trainer Central, Teachable or Classmint. For hosting live classrooms and discussions, the best applications are  Zoom and Google Meet.
Prepare the outline of the course:
After choosing the digital platforms and tools to host the classroom, teachers need to get down to designing their courses. A course outline helps in figuring out a lot of things related to the course delivery, resources and whether the course will sell or not. Use all your knowledge of the specialisation and available resources to build the outline for the course. This outline will be sued to further develop the course.
If the topic is new, then check the outline of similar kinds of courses on Udemy, Coursera and such platforms.
Prepare the resources for teaching:
Once the course outline is created, one needs to find the resources to teach the course and the related topics. This step involves deciding on the medium of teaching for different parts of the courses. Whether one needs to deliver a topic using a presentation, video, worksheets or quizzes. Teachers need the skills to integrate all kinds of teaching resources in lesson delivery from presentations to quizzes.
Market the course:
Once the course completes the designing stage, it has to go through the marketing phase. Selling online courses involves a lot of paid and unpaid advertising. One can either promote the course by word of mouth or build a digital marketing strategy. The latter is a more effective and data-driven approach to scaling an online course. 
Firstly, teachers need to build a Google Review page and publish reviews from previous students on the platform. Secondly, teachers also need to design a demo class/webinar that helps students know more about the instructor and the course. Lastly, teachers can use various marketing strategies available on social media platforms like Facebook and Instagram to target interested students and make more conversions. 
Online teaching is here to stay as more students are switching to online learning due to its multiple benefits. Teachers in the 21st century need to be tech-savvy and pursue online teaching for better career opportunities. And upEducators is here to help teachers become certified online educators with certifications like Google Certified Educators and Microsoft Certified Educators courses.
Author: This article is written by Samiya Rashid for upEducators blog.