From being a "strange hobby" meant for geeks tinkering with computers in their basement to becoming a critical career skill, Coding has come a long way. As per LinkedIn's Emerging Jobs Report, the role of coding experts during the last decade show that: Data scientists have upsurged by 650%, and the demand for Coding is said to grow by 37% each year. 
Also, we cannot deny that technology today dominates most industries. Moreover, learning to code appears to be the buzzword now. An increase in search volume on coding classes in India, from 1000 per month two years back to 15000 per month now can be seen.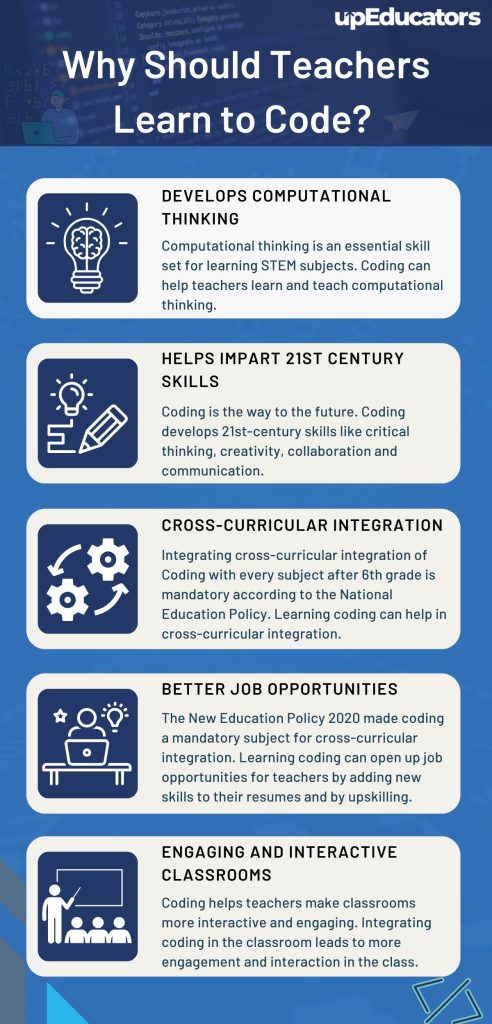 In addition to this, the National Education Policy 2020 made coding necessary for schools. Educational institutes now need to integrate coding into the curriculum and ensure the cross-curriculum integration of different subjects with coding.
Furthermore, coding teaching platforms like White Hat noticed an acceleration from a 40 percent month-on-month growth rate to 100 percent month-on-month growth since the pandemic. Likewise, Tinker Codersclaimed to have witnessed "exponential" growth of 200 percent since its launch in 2020. Also, employers now show interest in paying a bonus for employees who know coding and programming skills.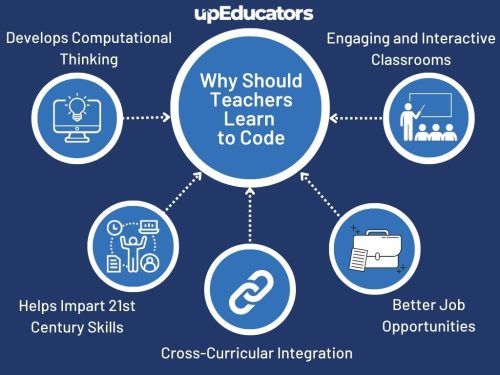 Here we bring to your attention some 'must-know' reasons. 
Check it out:
1. Develops Computational Thinking 
Digital technologies are ubiquitous in the 21st Century. Every day we come across new inventions and technologies and children today are tech-savvy. Students these days are skilled in using technology and attain computational thinking – a mindset that encourages children to scrutinize a problem and intentionally build a solution for it. These skills help get a better grip on STEM subjects and language, arts and design thinking subjects. Thus, it is essential for teachers to hone such skills and follow methods similar to computational thinking steps while delivering a lesson. 
A clear understanding of Coding can help attain technical knowledge and learn new ways to approach your work.  It leads to clarity and proper execution of strategy in problem-solving. Coding can be an effective vehicle for teaching and learning computational thinking skills.
2. Helps impart 21st Century skills
Programming or, say, Coding is the way to the future. It holds the power to influence and innovate every aspect of our lives. It is crucial as it fosters essential 21st-century skills for students, preparing them for their future, especially the 4 C's of the 21st century- Critical thinking, Creativity, Collaboration, and Communication. 
While learning to code, this programming language helps develop and exercise an individual's creative and critical thinking skills while giving them the technical tools to see their ideas through completion. It enables them to bring their innovative ideas to life with unique projects! 
Moreover, we know Coding enables us to think and speak in the language of a computer, and to communicate well requires logical and well-organized communication skills. Thus, learning to think and communicate in this way can boost interpersonal communication and collaboration skills.
3. Cross-curricular integration
Watching the latest trends and increase in computer science demand, in June 2020, the government introduced Coding into the curriculum through the National Education Policy. It mandated coding teachings from class 6 onwards.
Teachers now need to integrate coding with the subjects they teach. Coding is not just a discipline that needs to be learnt exclusively. But teachers in the present time are supposed to integrate Coding with the subjects they teach. 
In Math, for example, it can help solve and draw an equation, calculate zones and volumes, explore fractals, and calculate Pi decimal places; in Physics: use simulation formulas; in Chemistry: Adapt chemical reactions to create Valencia and symbol tests, and more.
4. Better jobs Opportunities
The New Education Policy 2020 made coding a mandatory subject for cross-curricular integration. This opened up a wide opportunity for educators to earn more by teaching coding. But there is a disparity between the demand and supply of coding teachers. Learning coding can help teachers in gaining a competitive advantage and open more job opportunities.
For instance, Ms Koyel, a teacher from International Public School, Kolkata, completed the Coding Course for Educators by upEducators and she benefitted in multiple ways with different avenues for earning extra income. She was approached by the parents of certain students. These parents were eager to make their students learn coding from Ms Koyel. Two students from her school approached her to learn to code. Moreover, even the principal, of her institute considered starting a coding course and assign her as the coding teacher for the students. 
Similarly, Ms Ishwarya from Lit Angel Play School, Bangalore was able to secure a job due to what she learned from the Coding Course for Educators by upEducators. She aced her interview as she developed a strong hold over coding concepts after learning to code.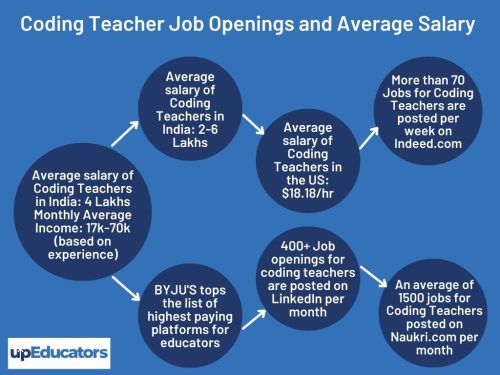 5. Engaging and Interactive Classroom
Coding provides the opportunity to make the classroom more interactive. Be it the coding class or any other subject, integrating coding in the classroom leads to more engagement and interaction in the class. For instance, Social Science teachers can use coding to plan virtual tours and teach History or Geography. Similarly, teachers can create digital calculators for interactive Math lessons. Even English teachers can benefit from coding by using Alexa app or creating animated movies for teaching a literature lesson.
 What are your views? Should teachers learn to code?
Author: This article is written by Samiya Rashid for upEducators blog.