A few years ago, coding was considered a technical skill for computer geeks. But with the advent of technology, the whole world woke up to the importance of coding in the real world. Now everyone wants to learn to code as it is one of the most trending and essential skills in the modern world.
The rise in demand for coding has opened up a lot of job opportunities for teachers. Online classes for coding are a popular hit and teachers earn a lot of money by teaching students to code. But do you think that only coding teachers with a technical background need coding skills?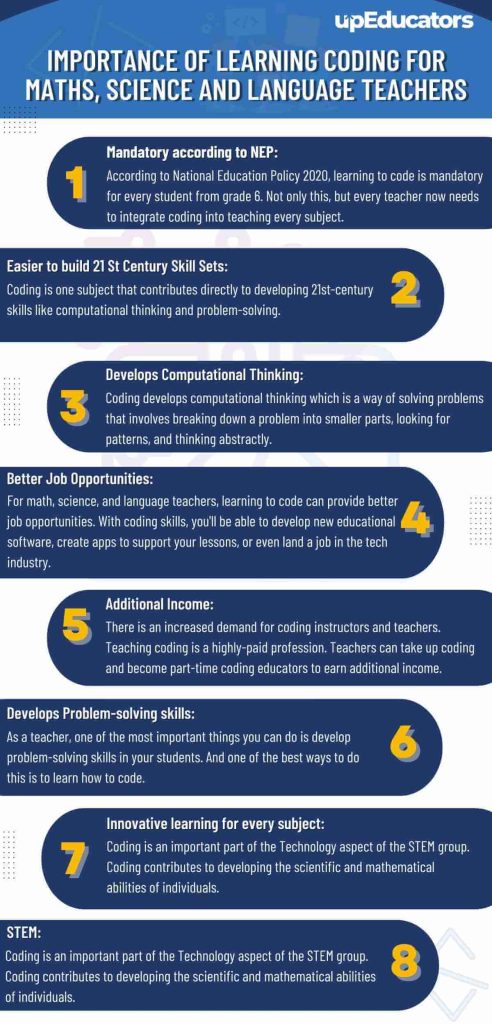 In the modern dynamic world of education, there is a high demand for coding teachers. Coding can also be used to teach subjects such as Maths, Science and even Language. But how? Read this blog to find out.
Mandatory according to NEP
According to National Education Policy 2020, learning to code is mandatory for every student from grade 6. Not only this, but every teacher now needs to integrate coding into lesson planning and delivery to teach students using innovative methods. Thus, every school or institute is searching for teachers who know how to code so that they can ensure cross-curricular integration of coding into their lessons. Be it Science, Maths or Language teacher, every educator needs to integrate coding into their subject and thus, it is essential for every teacher to learn to code. All educational boards like CBSE, IB and IGSCE are now integrating coding into their curriculum.
Easier to build 21 St Century Skill Sets
Because of rapid changes, understanding the subject or curriculum will not be sufficient for the kids in future. To navigate in the uncertain future, students need to develop 21st Century skills like Computation thinking, problem-solving, and critical thinking. Coding is one subject that contributes directly to developing 21st-century skills like computational thinking and problem-solving. It is easier to build these skills with coding as an individual breaks down complex problems into simpler solutions using coding.
Develops Computational Thinking
Coding is not only a valuable skill for students to learn but also for teachers. Coding develops computational thinking which is a way of solving problems that involves breaking down a problem into smaller parts, looking for patterns, and thinking abstractly. This type of thinking is important for success in any field, not just computer science. It also helps the learner become tech-oriented or tech-savvy. For example, a math teacher might use computational thinking to solve a complex equation. A science teacher might use it to design an experiment. And a language teacher might use it to develop a new way of teaching grammar.
Better Job Opportunities
As the world increasingly relies on technology, those who can code will be in high demand. For math, science, and language teachers, learning to code can provide better job opportunities. With coding skills, you'll be able to develop new educational software, create apps to support your lessons, or even land a job in the tech industry. While it may seem like a daunting task to learn to code, there are many resources available to help you get started. And once you've mastered the basics, you'll be able to use your coding skills to make a real difference in your field. Ishwarya, a preschool teacher never thought that she could land a job as a coding teacher. But completing the Coding course for Educators helped her in shifting her career from a preschool teacher to a coding teacher with better job opportunities. 
Schools are looking for teachers who can teach coding along with their subjects. Coding teachers in schools and colleges earn a good salary and get better job opportunities. According to Ambition Box coding teachers in India earn a salary between 2.5 lakhs to 6 lakhs. This salary increases with an increase in experience and knowledge.
Additional Income 
Coding is a skill that is high in demand. More people are interested in learning to code. Thus, there is an increase in demand for coding instructors and teachers. Additionally, teaching coding is a highly-paid profession. Teachers can take up coding and become part-time coding educators to earn additional income. On average, a part-time coding teacher can earn Rs.400 to 600 per hour from teaching coding.
Develops Problem-solving skills
In the dynamic modern learning environment, problem-solving skills are gaining importance. As a teacher, one of the most important things you can do is develop problem-solving skills in your students. And one of the best ways to do this is to learn how to code. When you learn to code, you develop a systematic way of thinking that can be applied to any problem. You also learn how to break down complex problems into smaller, manageable pieces. This makes it much easier to find solutions. And once you've found a solution to a problem, you can share it with others so they can benefit from your work.
Innovative learning for every subject
Teachers who know how to code can integrate innovative learning methods in the class for every subject. For example, coding can be used to teach mathematical concepts such as algorithms and variables. It can also be used to teach scientific concepts such as the scientific method. In addition, coding can be used to teach language arts concepts such as grammar and vocabulary. For example, a lot of students find social science monotonous. Using coding, teachers can develop virtual tours to help students grasp the topics of social science more effectively. Maths teachers can build digital calculators and make Maths more interesting. English teachers can use Alexa and other coding features to help students build their vocabulary.
STEM
STEM stands for Science, Technology, Engineering and Mathematics. It puts these subjects into a single group. STEM subjects are the most popular disciplines across the globe. The skills taught through these subjects are high in demand and thus more people are interested in learning these subjects.
Coding is an integral part of STEM. Many people believe that Coding is a part of the Technology aspect of the STEM group. The skills learnt through coding contribute to developing the scientific and mathematical abilities of individuals.
Coding opens doors for teachers in building a career in STEM disciplines. Learning to code is an ideal way to develop technical and computational skills. Technical skills are crucial for every student and the demand for coding teachers is on a rise nowadays. Every student wants to learn to code to build a career in STEM disciplines. Every teacher hence needs to learn and develop skills like coding to be able to integrate coding into their subject. Whether one is a Maths teacher or a language teacher, learning to code is essential for every educator in the 21st century.
It is thus important for Maths, Science and Language teachers to learn how to code. This enables them to integrate innovative learning methods in the class for every subject. Coding can be used to create simulations, games and other interactive activities that engage students in active learning.
A lot of stress is given to training students for coding and not much is being done train teachers who can, in turn, provide the best training to the students. upEducators has understood this need and addressed it by starting a coding course specially designed for educators. upEducators- A Google for Education Partner Company offers a Coding Course for Educators. The course is designed to develop coding skills in all the teachers using the most popular coding platforms like MIT App Inventor, Scratch and Code.org. Such courses help teachers in upskilling and land better job opportunities.
Author: This article is written by Samiya Rashid for upEducators blog.