Nursery or preschool is a place where a child first interacts with the world of education. It is at this stage that a person socialises in a formal environment and builds skills and interests that last for a lifetime.
Most parents these days prefer to send their children to nurseries or preschools. Thus, there is a huge demand for qualified nursery teachers. With so many job opportunities, NTT is an ideal career option for anyone who wants to become a nursery teacher right after school or at any point in life.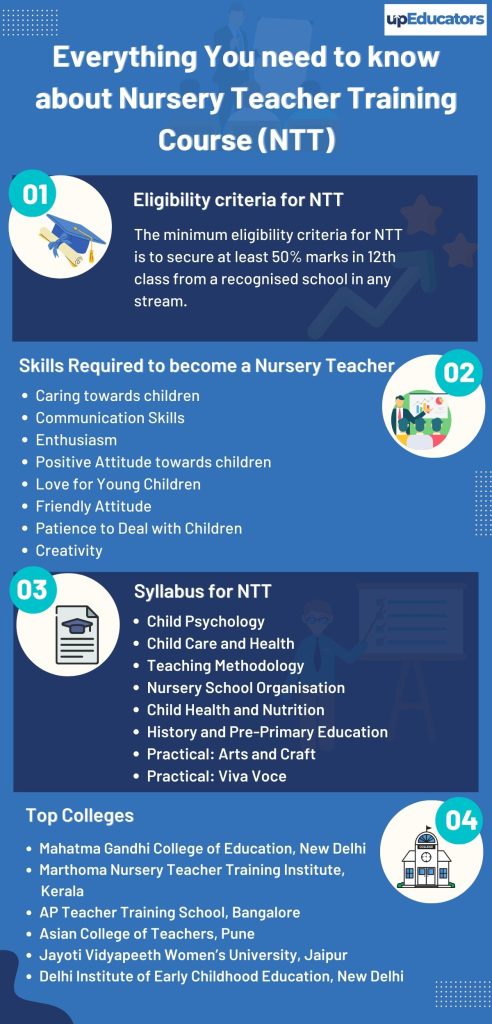 upEducators has worked with 5000+ educators. With research and interaction with various preschool teachers and nursery curriculum developers, we found out the best ways to become a nursery teacher. NTT diploma stands to be the most ideal way to become a nursery teacher in India. In this article, we discuss the following details about the NTT diploma course:
What is NTT?
Who should pursue NTT?
Eligibility for NTT
Skills Required for NTT
Scope and Career Opportunities for NTT
Syllabus for NTT
Course Fees for NTT
Top Colleges for NTT
Distance Learning Courses for NTT
What is NTT?
The Nursery Teacher Training Certificate in India is a qualification that enables an individual to work as a teacher in a nursery school. The coursework for this certificate covers topics such as child development, early childhood education, and teaching methods. Individuals who complete this certificate are prepared to work with young children in a variety of settings, including daycare centres, preschools, and private homes.
Who Should Pursue NTT?
People who love working with children and enjoy teaching them new things would be well-suited for a career as a nursery teacher. Those who are patient, good at communicating with young children, and have a lot of energy would also be good candidates for this type of job. Nursery teachers need to be able to plan engaging and developmentally appropriate activities for young children, as well as be able to manage a classroom of young children. An ideal candidate for nursery teaching also needs creativity and story-telling skills.
Eligibility for NTT
The minimum eligibility requirement to enrol on the NTT diploma course is to have a score of 50% marks in 12th from a recognised institute and board. Any candidate from any stream securing 50% or more marks can enrol on a diploma course in Nursery Teacher Training. 
Some colleges give seats to candidates based on their merit. These institutes publish lists of candidates based on their scores in 12th. The candidates with higher scores make it to the merit list and get admission into these colleges.
Skills Required for NTT
Nursery Teacher Training is coursework for candidates with specific skill sets. The hard skills are essential but preschools and nursery schools search for candidates with certain soft skills. These are some of the must-have skills for candidates looking forward to pursuing a Nursery Teacher Training Diploma:
Caring toward children

Communication Skills and skills to converse with young children

Enthusiasm

Positive attitude towards children

Love for young children

Friendly Attitude

Patience to deal with children

Creativity
Scope and Career Opportunities after completing NTT
After completing the one-year diploma course in Nursery Teacher Training, a candidate needs to apply for various suitable openings in preschools. You can land a job in any pre-primary school, or NGO or even start your preschool from scratch. There is a disparity between the demand and supply of Nursery teachers thus, a Nursery Teacher Training diploma can open up a vast pool of opportunities for a candidate. The average Salary for NTT courses in India ranges from  2,00,000-4,00,000.
The job opportunities are not limited to becoming a teacher. A candidate with a Nursery Teacher Training diploma can also pursue the following alternative career options:
Nursery Curriculum Developer

Tutor

Assistant Teacher

Co-ordinator

Baby sitter
Syllabus for NTT
Most Nursery Teacher Training Diploma courses are either full-time courses or correspondence courses. The courses provided by different institutes in India are one-year courses. These courses are divided into two semesters. The curriculum, course content and teaching practices vary in different institutes but most colleges teach the following topics in a Nursery Teacher Training Diploma course:
Child Psychology

Child Care and Health

Teaching Methodology

Nursery School Organisation

Child Health and Nutrition

History of Pre-Primary Education

Practical: Arts and Craft

Practical: Viva Voice
Duration: 1 Year(divided into 2 semesters)
Course Fees for NTT
The fees for Nursery Teacher Training Diploma vary from college to college. The government institutes have lower fees compared to pirate institutes. 
Average government institute fees: 5,000-20,000
Average Private Institute fees: 5,000-50,000
Top colleges for NTT
A lot of colleges in India offer NTT courses. The fees for these courses vary from college to college. The course structure and curricula followed in most colleges offering NTT are similar but some colleges offer offline while others offer online classes. Here are some offline colleges for pursuing NTT in India.
Mahatma Gandhi College of Education, New Delhi

Marthoma Nursery Teacher Training Institute, Kerala

AP Teacher Training School, Bangalore

Asian College of Teachers, Pune

Jayoti Vidyapeeth Women's University, Jaipur

Delhi Institute of Early Childhood Education, New Delhi
Distance learning Courses for NTT
Distance learning is catching up with traditional learning modes. With so many advancements in educational technology, a lot of learners prefer correspondence and remote courses. A lot of institutes in India offer distance learning courses for a diploma in NTT. Here are some of the best colleges:
All India Institute of Education, Punjab

Vidhyanidhi Education Society

Rural-Urban Council of Skills and vocational Studies

Sarva Education

Indian Institute of Skill Development Training
FAQs
What is the salary of a Nursery Teacher?
A nursery teacher with an NTT diploma usually receives a package of 2,00,00-4,00,000 per annum.
What are the minimum qualifications required to enrol on an NTT course? 
A candidate interested in pursuing a diploma in NTT must have passed the 12th class with 50% or more marks.
What is the duration of the NTT diploma?
Most NTT diploma courses are designed with a one-year curriculum which is divided into two semesters.
Are there any job opportunities after completing the NTT diploma course?
Yes, a candidate can choose from many preschools and apply for the position of nursery teacher. Candidates can also become curriculum developers, assistant teachers or even start their own preschool after completing an NTT diploma.
What degrees can be pursued after completing an NTT diploma?
A candidate can pursue a master's in Teacher Training, diploma courses in education or go for higher studies.
The demand for nursery teachers is increasing in India while there is a shortage of suitable and qualified nursery teachers. Nursery Teacher Training Diploma is a promising carer option for any candidate who is good with children and loves the profession of teaching. Candidates can complete this course in just one year and start working as a nursery teachers. NTT is the most suitable degree to pursue to become a nursery teacher in India.
Author: This article is written by Samiya Rashid for upEducators blog.