In the last decade, we hardly heard the concept of Teaching Online, it was all about teaching. But after the pandemic, the term "Teaching Online" has skyrocketed and many youngsters, professionals, and housewives found earnings by Teaching Online. For many, it has become a preferred profession where you use your talent to teach online from the comfort of your home.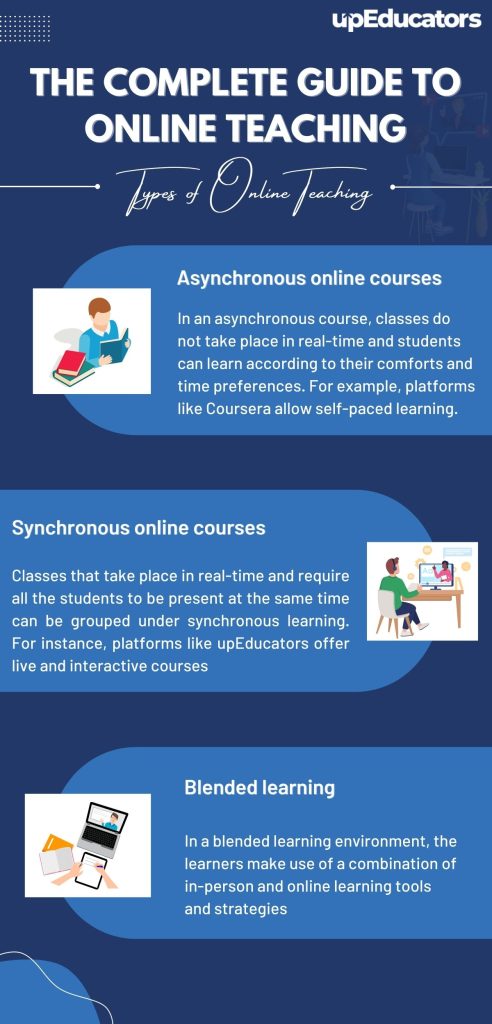 The searches for the phrase 'Teaching Online' on Google Search in India went up from 1,000 per month in 2019 to 1.4 lac in July 2021.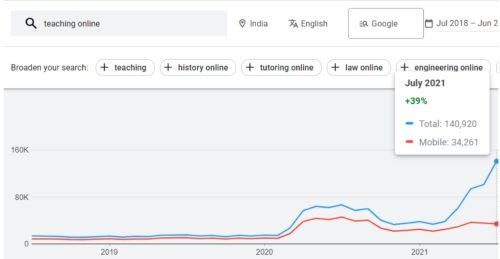 At the same time, many teachers have started their teaching startups to teach online or joined the EdTech companies like Unacademy and Vedantu to teach online.
Many have believed that this trend will decline after the pandemic, but contrary to this belief many students and professionals are still looking for online educators for their subject tuition or upskilling. The reason the demand has increased is that everyone has become accustomed to Online Teaching. Many experts believe after the arrival of 5 G and Web 3.0, this trend will further accelerate towards online teaching.
In this article, you'll learn everything you need to know to start teaching online. We, at upEducators – A Google for Education Partner Company, – have done detailed research on what is required to Teach Online. 
In this article, you'll learn everything you need to know to start teaching online.
What is Online Teaching

Types of Online Teaching

Prerequisites for Online Teaching in India

Platform and Digital Tools to teach online

Skills required to teach online

Certifications for Online Teaching 

Starting own Classes or joining a Company

Jobs & Salaries in online teaching

How to do Marketing to get Online Students
Why Online Teaching?
Online teaching is not something that was invented in early 2020 as a response to the situations created during the pandemic. According to the National Centre for Education Statistics, more than 30% of students were enrolled in at least one online course before 2020. But we can't deny that the pandemic pushed the growth of online education as technology enabled the smooth flow of learning during this difficult phase.
The online learning industry is expected to reach a market size of $350 Billion by 2025. More educational institutes are now offering remote or correspondence courses. Hundreds of educational platforms are launched every year. More teachers are switching to online tutoring and thus every educator needs to familiarise themselves with the basics of online teaching.
Online learning is not limited to attending live lectures. The process involves different strategies and ways to gain information and learn. Here are some of the most common online teaching methods used by educators across the world.
1. Asynchronous Online Courses:
The Global community of online learners is spread across various time zones. Students from different time zones are unable to attend a live lecture at the same time. This is how asynchronous learning helps students. '
In an asynchronous course, classes do not take place in real-time and students can learn according to their comforts and time preferences. Students can access the learning material and have discussions through pre-recorded video lessons, blogs and discussion boards. For example platforms like Coursera allow self-paced learning.
2. Synchronous Online Courses:
Classes that take place in real-time and require all the students to be present at the same time can be grouped under synchronous learning. The participants use various visual, auditory and textual tools to attend the lectures and have discussions. This format of online learning allows students to learn from a distance in real-time. For instance, classes with live trainers and teachers. For instance, platforms like upEducators offer live and interactive courses that enable synchronous online learning.
3. Blended Learning:
The use of EdTech is not limited to complete online learning platforms. Educational institutes are using a new approach to teaching called blended learning. In a blended learning environment, the learners make use of a combination of in-person and online learning tools and strategies. This strategy has proved to be very effective for learners in the 21st century as technology is the future and students need to be experts in using tech daily.
Prerequisites to Teaching Online
Private online tutoring is still largely an informal industry in India. But many educational platforms look for certain basic qualifications before hiring a pirate tutor. Here are some prerequisites that would help a teacher in landing an online tutor or teacher position.
1. Subject Expertise:
In a traditional learning environment, teachers are hired on the subject expertise. If a person wants to teach English, then they must have at least a bachelor's degree in English along with show good command of the language. Would you learn English from somebody who commits grammatical errors in their speech? To become a teacher one must first gain expertise in the subject matter.
Online teachers and tutors need to have relevant teaching qualifications. Teachers teaching online need to earn teaching certifications, diplomas and degrees before starting to teach.
2. Work Experience:
Online teaching is a welcoming field for freshers and graduates with no experience if they display the relevant skills and expertise in a subject. But having relevant work experience would help online teachers in earning more.
3. Digital Literacy:
Lastly, online teaching involves the use of digital modes of learning. The complete process takes place on digital platforms using digital tools, technologies and pedagogies. Teachers who want to shift to online teaching platforms need to be tech-savvy and familiar with online teaching and management systems. With the help of various certification courses, like Google Certified Educators or Microsoft Certified Educators by upEducators, teachers can learn digital skills and upskill to become 21st-century online educators.
Tools and Equipment Required for Online Teaching
Laptop

Videoconferencing tools

Online Whiteboards

Digital Writing Pads or tablets

Headphones

Annotation tools

Work planning tools
Skills Required for Online Teaching
1. Communication:
Effective communication is one of the major challenges faced during the online teaching-learning process. Teachers need to be good communicators to be effective during online lessons. No matter your subject expertise, it is impossible to instruct students without good communication skills.
Brush up your skills and learn effective digital communication skills for educators. Effective communication skills improve the quality of education and ease the online teaching-learning process.
2. Patience:
Impatient individuals can teach but they can never be good teachers. Teaching involves dealing with constant questioning, explaining everything multiple times and solving conflicts. Patience is thus one of the most crucial soft skills required for becoming a teacher. And if we talk about online learning, then online educators need to be more patient as they have to deal with everything in a virtual setting which can multiply the stress of dealing with notorious students.
3. Digital Skills:
As already discussed, online teaching involves the use of digital tools, strategies and techniques. It is thus essential for online educators to gain digital literacy and other digital skills to handle the medium of learning in an online learning environment. Becoming a certified digital educator will help teachers in the long run.
4. Organisational Skills:
A lot of a teacher's time is spent in planning lessons, grading tests and assignments and organising documents, Teachers thus need to develop organisational skills to be able to enhance lesson planning, grading effectively and efficiently organising important documents and notes. Good teachers are good organisers and thanks to technology teachers in the 21st century can make use of various digital tools to organise classroom activities, plan lessons and grade effectively. Learning to use these digital tools can help teachers in getting better at organising.
5. Constant Learner:
Teaching is a dynamic profession and every day new revolutions are made in the world of teaching. Teachers need to be constant learners to keep pace with innovation in technology and discoveries taking place in the world now and then. Upskilling courses, certifications and digital learning resources and platforms can help teachers in learning and updating their knowledge constantly.
Finding Students to Teach Online
There are two paths to embark on the journey of online tutoring. 
Independent Classes

Joining an EdTech company 
In a traditional teaching environment, educators get degrees, build CVs, apply for jobs, appear for interviews and land suitable jobs. In an online learning environment, teachers do need qualifications and sometimes work experience. But finding a job and looking for students comprises a different route in digital education. Teachers can either apply to EdTech companies or they can build their platforms and grow them using digital marketing strategies.
Building an online presence, attracting students and growing your educational channel or business requires expertise in digital marketing practices. Once you have created a channel or uploaded a course, it needs to be promoted with the right digital marketing practices. Online products or services do not sell on their own. Digital platforms like search engines, social media and websites use algorithms, data and other technical tools to market products and services to the target audience. 
There are many different kinds of digital marketing strategies that educators can use. Some of the most popular digital marketing strategies for educators include:
Search Engine Optimisation

Social Media Marketing

Email Marketing

Pay Per Click advertising

Sponsored Marketing

Content Marketing
Another way to excel as an online teacher and find a wider population of students is to join EdTech companies like Udemy, Unacademy, Vedantu or BYJUs. There is a procedure to sell your courses on these platforms and teachers can earn varying amounts of income using different EdTech platforms.
Earning Potential for Online Teachers
The salary for an online teacher is based on various factors. Some of the factors affecting an online teacher's salary include:
Subject Taught

Work Experience

Educational Qualifications

Platform used for teaching

Social Media presence of the teacher

Online reach of the teacher 
These factors contribute to deciding the average salary for a teacher. But here we have listed the average salaries received by online teachers working on various digital educational platforms according to the data taken from Glassdoor.
Vedantu: INR 3,00,000-7,50,000
Unacademy: INR 6 lakhs-16 lakhs per year
Byju's: INR 3 lakhs-8.5 lakhs per year.
Whitehat Junior: INR 2.8 lakhs-6 lakhs per year
Toppr: INR 0.5 lakhs-4.8 lakhs per year
Educators can use a mix of these strategies to see the best results and growth in their online presence. Sticking to only one of these strategies may not get you the desired results. But using multiple digital marketing strategies can help you in reaching your goals. Educators struggling to find students online can learn digital marketing skills with courses designed especially for educators. upEducators offers a Digital Marketing Course for Educators that helps teachers, trainers and educators to grow their classes online.
Tips for Building a Good Online Presence
Plan a social media strategy

Build a custom and functional website

Provide resourceful and useful content

Display your expertise

Short videos are the future of content marketing. Use short videos to reach out to a wider audience

Set up analytics and gain insight into your audience and their behaviour. Analytics help businesses in learning various things about their audience like where did an account discover you or for how long did they interact with your content. 

Always ask for reviews and ratings
Tips for Giving Demo Sessions
A demo helps your prospective employers or future students to see you in the teaching setup before they even hire you. Teachers with good profiles and qualifications are sometimes rejected after the demo session. A good demonstration of your teaching skills is essential to be hired. After all, the first impression is the last.
In a traditional educational system, teaching demos take place in a class full of students. But online teaching demos are a little awkward. It is a strange setup where you might have to give demonstrate your teaching skills in the form of a  recorded video or present a demo in front of a team of employers who are not even students. Here are some tips to help you ace your online teaching demo session.
Choose a topic you excel at
Do not take a risk while choosing a demo topic. Always choose a topic that you are well-versed in and you can teach well. Bring back your notes from college days that helped you in acing the paper on that topic or jot down the most resourceful and unique information you have about that topic.
Draft a lesson plan
You might be one of those teachers who come unprepared to the classroom and yet deliver lessons successfully. Despite your expertise in your subject area, do not appear for a teaching demo without a properly crafted lesson plan. Make a document, annotate it, and add links to resourceful videos, posts and other useful content pieces. Make a proper layout and stick to it.
Practice
Once you have created a final lesson plan, ask your friends or family to meet you online via Zoom, Google Meets or Microsoft Teams. Practice multiple times so that you get comfortable with the material. Ask for feedback and make the changes accordingly.
Learn the technology
There's no worse feeling than asking an employer during an interview how screen sharing works on a particular application. As an educator, one must be an expert in using educational technology and tools. It saves you from such embarrassing situations and helps you in delivering practical lessons.
Keep the demo lesson interactive
There's nothing more monotonous than a non-interactive classroom. Show your prospective employers and students that you have what it takes to make learning interesting. Ask questions or display your skills ate using quizzes and other tools to make the classroom more interactive.
As an online educator, one needs to constantly update and upskill to stay relevant in the modern teaching environment. Teachers need guidance to teach online and this can in turn help them in increasing their income and reach. Becoming a certified digital educator is the first step toward building a career in the field of online teaching. Courses like Google Certified Educators and Microsoft Certified Educators by upEducators can help teachers in learning the required skills for teaching online. While courses like Digital Marketing for Educators and Coding for Educators can help them market their courses.
Author: This article is written by Samiya Rashid for upEducators blog.