15 years ago, students were taught 5 subjects in the class and only a few of them joined hobby classes. Their free time consisted of playtime and outdoor activities. But nowadays, students have 10 subjects in class, and many hobby classes and they are also preparing for competitive exams. All these have increased the demand for Teachers across the country. Even the disposable income of people in India is also increasing and every parent wants to invest first in his child's education.
With this demand, the supply of qualified teachers is reducing which is also increasing good pay packages. Teachers are the real superheroes in our world. Various reasons attract individuals to this fulfilling profession. Teachers inspire and nurture young minds to become a valuable part of society.
Becoming a teacher is a long journey with dedication and love for the profession. Aspiring teachers can embark on specific training to be a teacher. The training to be a teacher begins at different stages. Freshers straight out of school can also become teachers. Different levels of teaching require a different set of qualifications and experiences.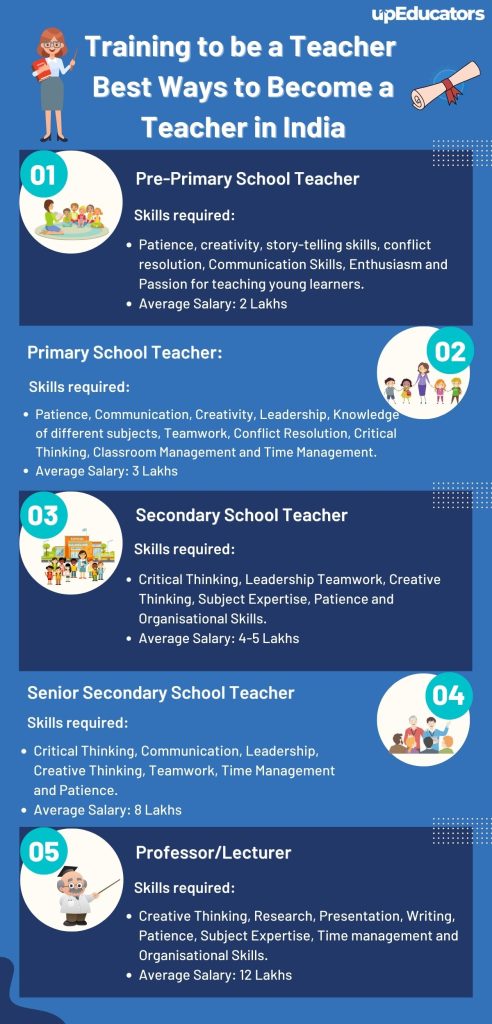 upEducators- A Google for Education Partner Company has trained more than 5000 teachers in digital skills and pedagogies. The expert team at upEducators provides resourceful insights to becoming a teacher in India. If you want to venture into the world of teaching, this simple yet detailed guide by experts at upEducators will take you through the journey to pursuing teaching at different levels.
In this complete guide, you will find qualifications, skills and other details regarding how to become:
Preschool teacher

Primary Teacher

Secondary Teacher

Senior Secondary Teacher

Professor

Online Teacher

Youtube Teacher
Pre-Primary School Teacher
There is no one-size-fits-all answer to this question. The best way to become a Pre-primary Teacher in India may vary depending on your qualifications, experience and other factors. However, following some steps can help one become a pre-primary teacher in India.
Firstly, consider pursuing a degree or diploma in early childhood education, which will give you the necessary theoretical knowledge and practical skills to work with young children.
You could also consider taking up a teaching internship at a pre-primary school, which will give you first-hand experience working with young children and help you decide if this is the right career path for you. Once you have the necessary qualifications and experience, you can start applying for jobs at pre-primary schools in India. Make sure to highlight your skills and experience in your application and CV, and be prepared to attend interviews and trials.
Skills required: Patience, creativity, story-telling skills, conflict resolution, Communication Skills, Enthusiasm and Passion for teaching young learners.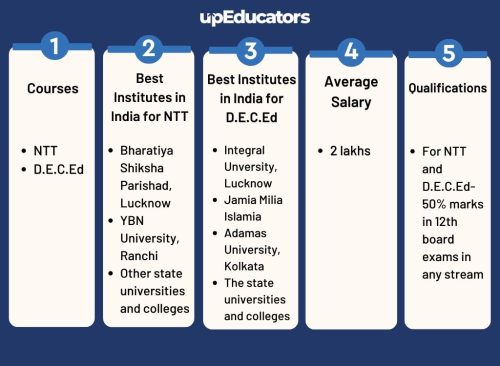 Primary school is where students build their basic knowledge of various subjects. A primary teacher has to teach students between 6-12 years of age. Teachers teaching at the primary school level instruct students studying in classes from 1st to 5th. The curriculum consists of topics that help develop the fundamentals of numerical, language, reasoning, creative skills and general awareness. 
There are different paths to starting a career as a primary school teacher. One can pursue a career as a primary teacher by earning a Bachelor of Elementary Education(B.El.Ed) or B.Ed after undergraduate. 
Skills required: Patience, Communication, Creativity, Leadership, Knowledge of different subjects, Teamwork, Conflict Resolution, Critical Thinking, Classroom Management and Time Management
TET for Primary Teachers(I-V): The Teacher Eligibility Test, or TET, is an examination conducted by both the Central and State governments in India to determine whether or not a candidate is eligible to become a teacher. The TET exam is conducted in two parts – Paper I and Paper II. Paper I is for candidates who wish to teach in classes I to V, while Paper II is for candidates who wish to teach in classes VI to VIII.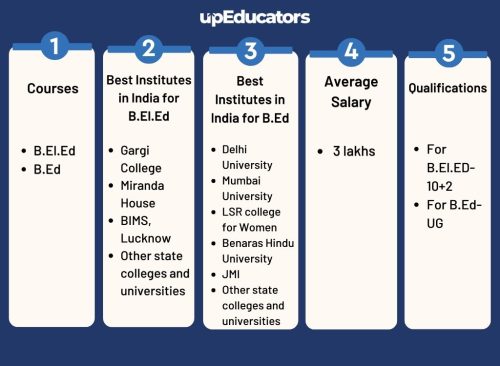 Secondary School teachers are responsible for instructing students from classes 6th to 10th. The fundamental roles of these secondary school teachers involve upgrading the students' knowledge to advanced levels. At this level, students learn complex topics related to various disciplines. Teachers teaching at Senior Secondary levels thus need to be qualified ad skilled to teach students at this level. Teachers at this level are expected to deliver lessons in subjects like Maths, Social Science, Science and languages. 
These teachers are also referred to as Trained Graduate Teachers(TGTs). A candidate pursuing a career as a Senior Secondary Teacher needs to hold a two-year bachelor's Degree in Graduation or B.Ed after completing their undergraduate degree. 
Skills required: Critical Thinking, Leadership Teamwork, Creative Thinking, Subject Expertise, Patience and Organisational Skills
TET for Secondary Teacher (VI-VIII): The Teacher Eligibility Test, or TET, is an examination conducted by both the Central and State governments in India to determine whether or not a candidate is eligible to become a teacher. The TET exam is mandatory for all candidates who wish to teach in primary or secondary schools in India. The TET exam is conducted in two parts. Paper I is for candidates who wish to teach in classes I to V, while Paper II is for candidates who wish to teach in classes VI to VIII.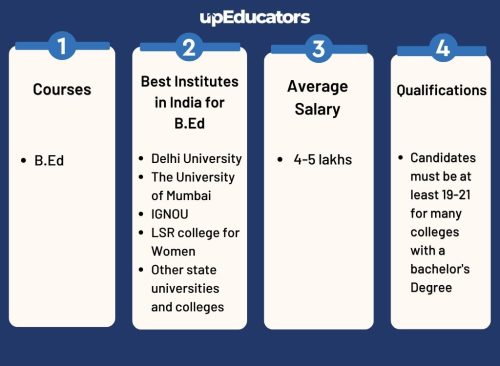 Senior Secondary School Teacher
The Post Graduate Teachers or PGTs are the teachers teaching at the Senior Secondary School level. These PGTs need to have expertise in a subject or discipline. These teachers instruct students in classes 11th and 12th. At this level, students opt for a specific stream and a group of subjects. Teachers at the Senior Secondary School level need to have a Masters's degree in the subject they teach along with a Bachelor's degree in Education or a B.Ed. 
Senior Secondary School teachers are supposed to take in the lessons of the topics and explain complex and advanced topics to the students. Their job includes building a strong understanding of different topics related to a subject. 
Skills required: Critical Thinking, Communication, Leadership, Creative Thinking, Teamwork, Time Management and Patience
Pro Tip: Interested candidates can also pursue a career in special education. Special educators are teachers who teach in Special Schools. These schools are educational institutes for the development and education of specially-abled students. A candidate can pursue a Bachelor's Degree (B.Ed) in Special Education from the best institutes in India like Jamia Milia Islamia,  Banaras Hindu University and Kurukshetra University.
Professors or Lecturers are educators who teach at college levels after school. The job of a professor/lecturer involves taking classes, conducting research and assisting students in carrying out their research. 
To become a professor/lecturer, a student needs to complete a Bachelor's followed by a Master's degree. The candidate then needs to appear for and qualify for the UGC-NET examination that is conducted twice every year by the NTA. On clearing the exam, the student can teach in any institute as an Assistant Professor. A candidate can only appear for UGC-NET and teach the subject in which he pursued the Masters's degree. For instance, a candidate holding a Masters's degree in the English language can become an Assistant Professor in English by clearing the UGC-NET examination in English. 
To become a Professor, a candidate needs to pursue a PhD and carry out research on a topic of their choice related to the subject. Most colleges and universities have a separate entrance test for admission to a PhD program. But a lot of colleges accept the UGC-NET, SET, CUET and even GATE scores for admission to the PhD programs.
Skills required: Creative Thinking, Research, Presentation, Writing, Patience, Subject Expertise, Time management and Organisational Skills.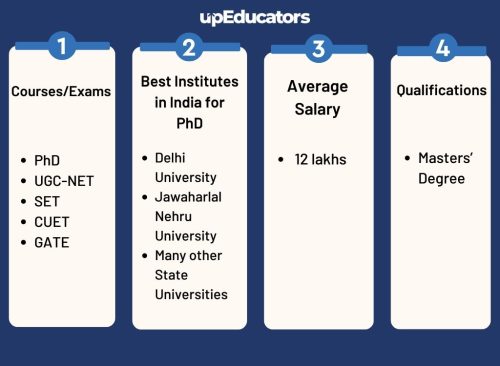 Online Educators
Online teachers are educators who provide instruction via the internet. They typically design and deliver lessons, track student progress, and provide feedback to students via email, chat, or video conferencing. Some online teachers also create and administer assessments. In order to become an online teacher, one typically needs to possess a teaching license or certification in the desired subject area. 
In addition to this, online teachers should be comfortable using technology and be familiar with various online learning platforms. Courses like Google Certified Educators or Microsoft Certified Educators can help teachers develop new-age teaching skills and learn digital pedagogies.
Youtube Teachers
There are many different types of YouTube teachers, but the most popular ones are those who teach a particular subject or skill. To become a YouTube teacher, you first need to be an expert in your chosen field. You can then create videos that teach your viewers how to do something, or provide them with information on a particular topic.
Most YouTube teachers use a mix of video and audio to deliver their lessons, and some also use PowerPoint presentations or other visuals. You'll need to be clear and concise in your delivery, and provide helpful and easy-to-follow instructions. You should also be aware of the different types of learners, and cater your videos accordingly. Some of the most popular Youtube teachers from India are:
Individuals wanting to pursue a career in teaching can embark on one of these paths and become an educator. After achieving these qualifications, a candidate needs to upskill with 21st-century skills and pedagogies to stay relevant in the world of teaching.
Digital skills are a must-have skill for teachers in this digital age of education. Teachers can either learn digital skills and pedagogies from self-paced learning platforms like Youtube or Coursera. But if you are interested in live and interactive learning, then upEducators is the right platform for you.
upEducators- A Google for Education Partner Company offers courses like Google Certified Course for Educators, Microsoft Certified Course for Educators and Coding Courses for Educators. Teachers can upskill and become tech-savvy with the help of such live and interactive courses for teachers.
Author: This article is written by Samiya Rashid for upEducators blog.