Candidates enrolled on teacher training programs like B.Ed and M.Ed undergo an intensive curriculum. Becoming an educator involves not only becoming a subject expert but also learning the etiquette, practices and ethics to be followed in the classroom. 
In a world where millions of learners learn online and virtually, teachers and students need to become responsible and ethical users of technology. Virtual classrooms are fundamentally similar to brick and mortar classrooms. But certain features are specific to virtual classrooms. Thus educators need to learn and adopt certain etiquette for virtual classrooms.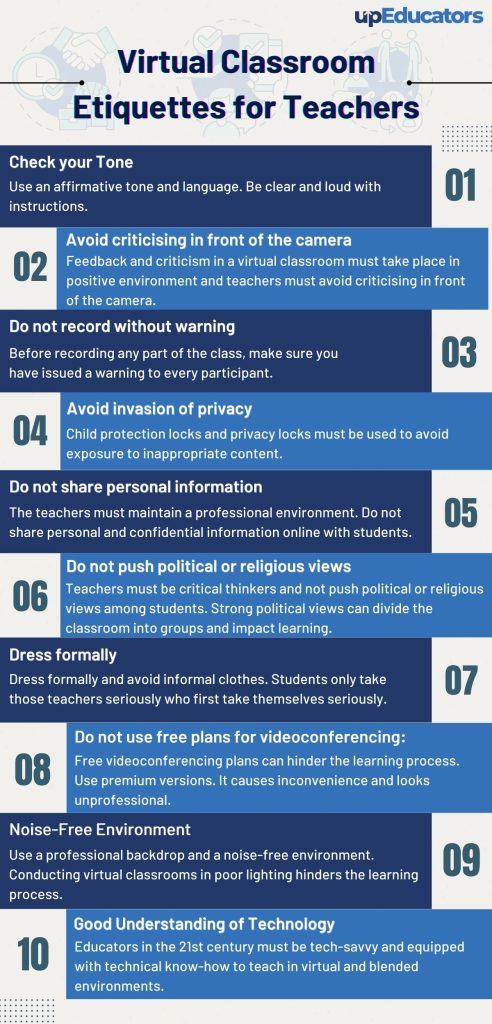 upEducators has trained thousands of teachers in learning digital skills in education with programs like Google Certified Educator course and Coding Course for Educators. After studying and researching hundreds of educators and their behaviour in virtual classrooms, our team has found some common ethical trends and behaviours. Here, we dive into the etiquette for virtual classrooms that can help freshers and experienced teachers learn digital classroom ethics better.
As an educator, one needs to stay behind the screen and give instructions to students. In this process, the tone is very crucial. The tone consists not only of the words used but even the body language of a person can be an indicator of the tone. In simple words, tone can be termed as the attitude of an individual and it can easily be detected in various ways. 
During online teaching, using the right words and body language can help teachers in setting a positive tone in the classroom. For instance, interchange some words and you will see the difference in the attitude of the classroom. Try replacing strong phrases like "do you know" with more affirmative words like "what do you think about." The change of tone can change the narrative and help students in learning better.
Avoid Criticising on Camera
Empathy is a soft skill that every teacher must possess. Empathising with online learners can bridge the gap between remote learners and educators. If you have ever taught in a residential learning environment, then you must have borne the consequences of punishing a student for not turning in the assignments on time. The never-ending side glares, the grudge against you as a teacher for the whole semester and sometimes even missing your classrooms are some ways that students cope with criticism in traditional classrooms.
Online educators have a bigger challenge when it comes to criticising students on camera. Teachers must avoid criticising students on camera as it is quite difficult to understand the reaction of a student to criticism during virtual classrooms. 
But then how can online educators provide constructive feedback to students? 
Use digital feedback tools like Flipgrid or use Google Forms to create feedback forms for students. 

Use Teams, Zoom or Google Meet to interact with the parents and students personally. That would help provide constructive criticism without hurting a student's ego in an online classroom.
Do not record without warning
A student appeared for an admission interview in a prestigious university. The interview panel decided to host the interview over video conferencing as one of the panellists suffered from an infectious disease at that time. The faculty needed the video recording of the interview to refer back to the footage for the selection process. In this case, the student received a warning regarding this situation. The mail with the link to the meeting came with a warning message that the interview will be recorded. 
This example shows how institutes and educators need to be vigilant in undergoing such practices. The video recording of any online lectures should take place after warning the students. Videoconferencing platforms like Zoom allow only the host of the meeting to record the video that too with a warning message to the participants. Teachers must keep this in mind to avoid violating the ethics of online learning.
Avoid invasion of privacy
A lot of content on the internet is inappropriate for students. Privacy locks and child protection locks must be used by teachers while using any application that could expose students to inappropriate content. This can help maintain the virtual learning ethics and make the online classrooms more student-friendly. Also, teachers must always use verified sources of learning to avoid privacy invasion in the forms of hacking or phishing online.
Do not share personal information
The online student community is spread across the globe. Sharing personal information should be the last thing to cross your mind during the online teaching process. 
The teachers must maintain a professional environment and never indulge in conversations that could hamper the formal learning environment of virtual classrooms. Sharing personal information can also lead to cyberbullying. A lot of teachers have faced the consequences of being bullied by online learners. This often happens in a classroom where the teachers do not assert dominance or keep the classroom environment informal. Avoid falling prey to such situations by resisting the urge to get too informal with your students.
Do not push political or religious views
A teacher has a huge influence on the mind of the students. An effective and fair learning environment is free of prejudices. A great teacher is someone with critical thinking skills. And a critical thinker is free from political and religious biases. 
Even if you have strong political or religious beliefs, do not push them on your students or even have discussions regarding these topics in the classroom. Even these topics can be broken down and discussed logically but teachers must try to avoid discussing such topics to maintain the integrity of the classroom. For instance, strong political views can divide the classroom into groups and impact learning.
Lastly, nothing can help in creating a good impression than your appearance. No matter how effective your material or notes are, students won't take you seriously if you show up half-dressed in shabby clothes in the classroom. Even if you are recording a lecture for asynchronous learning, you should dress formally. Think about how you would dress in a traditional classroom. Would you show up in your night suit to an in-person class? Students only take those teachers seriously who first take themselves seriously. Dress formally and you will leave a better impression on your students.
Do Not Use Free Plans for Video conferencing applications
Free plans for video conferencing applications like Zoom can ruin the classroom experience. Firstly, free plans have a time limit for meetings after which the meetings end abruptly. It causes inconvenience and looks unprofessional.
Proper Lighting, Noise-free and Professional Backgrounds
Conducting virtual classrooms in poor lighting hinders the learning process. Teachers must ensure that they sit in a well-lit area or use indoor lights in front of them. Teachers can use ring lights in front of them to get the best results for lighting. 
Moreover, noisy backgrounds cause disturbance and make virtual classrooms look unprofessional. One must ensure that the classroom is conducted in a noise-free setting. Using proper mics for the classroom is also important. Some of the best professional mics are Blue Snowball Ice, 
Also, teachers must use proper backgrounds to create a professional setting. For instance, using a green screen or curtain can help teachers add a suitable professional background without making it look messy. Or teachers can stick to a white and plain background to keep it simple and professional.
Good Understanding of Technology
Teachers and educators with little or no experience in using technology can make virtual classrooms a difficult space to learn. Educators in the 21st century must be tech-savvy and equipped with technical know-how to teach in virtual and blended environments. Teachers can learn educational technology with self-paced learning platforms like Youtube and Coursera. But if you are more inclined toward live and interactive learning, then upEducators is the right platform for you.
upEducators has trained 5000+ teachers with digital skills and pedagogies. The live and interactive courses like Google Certified Educators, Microsoft Certified Educators and Coding Course for Educators can help teachers learn and develop new age skills.
As much as virtual classroom technology is being used in schools, it is also being used in colleges and universities. This technology is also being used in traditional and blended learning environments. Teachers can talk with students and share information in ways that were not as easy before the introduction of technology. Following these basic etiquettes in the classroom is crucial for educators as well as students.
Author: This article is written by Samiya Rashid for upEducators blog.