Almost every aspect of a child's life is controlled by the parents. Children need permission to perform every activity and are always obliged to take action after the assent of their parents. This leaves them with little to no control over their lives. Thus activities that grant them some control over a thing make them very excited. 
Gamification is one such part of a young learner's life that give them freedom for some time in a specific activity. This is one of the many reasons why children love gamification in classrooms. Students, especially the younger ones, love the concept of using gamification in the learning process. It keeps them engaged and also provides them with a better and more practical understanding of different concepts and topics. But what is gamification in the classroom and how do teachers integrate these tools to enhance the teaching-learning process?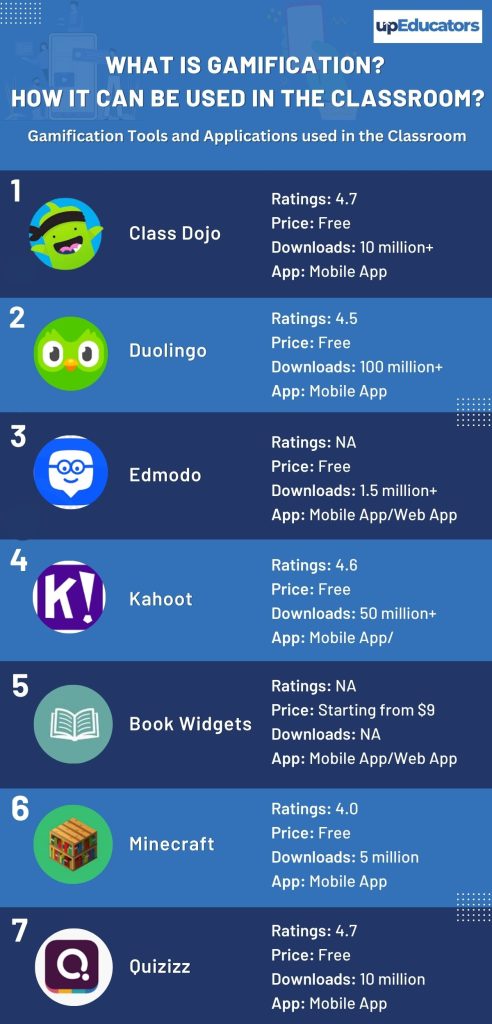 What is gamification? 
Gamification is the use of game-like elements in non-game contexts. When it comes to education, gamification can help make learning more fun and engaging. It can also motivate students to keep learning and progressing. Additionally, gamification can help students learn faster and retain information better. Finally, it can promote social and collaboration skills.
Gamification in education has many benefits:
It makes education fun and interactive

It provides learners with a chance to see the real-world applications of theories and lessons learnt in the classroom

It helps teachers to provide real-time feedback to students

It keeps students motivated to show up every day in the classroom

It enhances collaboration in the classroom

It makes competitive tasks like quizzes and games more fun and engaging.
Components of Gamification
Gamification in the classroom has various components. For example, every single gamification tool or app boasts one or more components like these:
Levels: The level component shows the various levels of a game or activity. Applications with levels show the current level and the levels as the user progresses. In such gamification apps, the learners have to cross levels to complete tasks and achieve goals. 
Badges: Badges are like tokens for achieving a milestone. Gamification apps with badge components provide learners with a badge at the end of completing a task. 
Leaderboard: A lot of gamification applications track the progress of different participants using a leaderboard. Participants get ranked on the leaderboard according to their points and the highest scorers are at the top of the leaderboard. 
Quiz Results: Another component of gamification involves showing quiz results at the end of a quiz. The quiz results decide the winners or the top performers of an activity like a quiz. 
User Pictures/Avatars: Gamification is interesting for many students due to the Avatars/Picture component. Participants in a game can create their personalized Avatars/Pictures and use them as their display pictures. 
Feedback: Gamification is also an effective feedback method for teachers. The various gamification tools or applications come with a feedback feature to make sharing assessments and reviews interesting and positive.
How can Gamification be used in Education?
Gamification can be used in the classroom in many ways. For example, teachers can create game-like activities that reinforce learning objectives. Students can be given points for completing tasks or answering questions correctly. They can also be rewarded with badges or other digital prizes. Gamification can make learning more fun and engaging for students of all ages. Another way is to allow students to level up as they complete more tasks. Finally, leaderboards can be used to encourage competition among students.
Gamification Tool and Applications
There are many gamification tools and applications available in the market. Many EdTech platforms offer free applications and tools to make learning fun and engaging. These tools blend easily with all kinds of classroom setups and can be used in virtual as well as traditional classrooms.
upEducators has trained more than 3000 teachers in using digital tools and pedagogy in the classroom. Our team has worked closely with hundreds of teachers across India to find out the best gamification tools and applications they use in a real-life classroom. With research, reviews and feedback on all the applications, we have listed the most popular applications and tools used by educators in the classroom. Let us dive into the list of these tools and applications used to gamify the classroom.
ClassDojo is a great platform for engaging parents as well as students in the classroom. The engaging platform of this application is designed to keep primary school students, teachers and parents engaged in the classroom. Teachers can review the activities of students on ClassDojo and reward them with points for the tasks based on a reward system. Even parents can stay updated about classroom activities using this platform.
Duolingo is an interesting approach to language learning. It gamifies the language learning process and offers courses in over 90 languages. With more than 500 million users, Duolingo provides self-paced learning courses to learners in an interesting manner. The learners get points and see progress boards using this application.
Edmodo provides teachers with tools and applications that help in gamification in the classroom and make it more engaging. For instance, teachers can use Edmodo to send messages, share material and helps in grading too.
Kahoot is an interactive and intuitive learning platform. Teachers can use this gaming application to develop games for learning multiplication tables, periodic table elements or even geography-related lessons. The in-built point system on this application enables teachers to give points to students for completing tasks which helps in the gamification of the classrooms and makes learning more fun and engaging.
Book Widget is an amazing feedback and review application. Teachers can use this gamification tool in the classroom to provide quick and effective feedback on tasks and assignments. This extensive tool provides teachers with insights into the student's performance that helps in improving the overall performance.
Minecraft: Education Edition
Everyone is aware of the polarity of Minecraft. But Minecraft also launched an exclusive game for classrooms. With Minecraft: Education Edition, teachers can gamify the platform and takes a step forward in using Virtual Reality in the education system. It is a great platform to make classrooms engaging and fun.
Quizziz is an online application to hold quizzes in the classroom. Teachers can create their quizzes in the form of polls, games and lessons that can be self-paced or live and interactive. With real-time reporting and Key Performance Indicators, teachers can enhance the learning experience using this application.
Gamification is the future of classrooms. Digital tools and applications are everywhere and people use them to learn new skills every day. Teachers need to become tech-savvy and learn these digital skills to be the right fit for the modern education system.
Teachers can learn digital skills and train to be tech-savvy using self-paced learning platforms like Youtube. But if you are more interested in live and interactive learning environments then upEducators is the right place for you. You can enrol on courses like the Google Certified Educators course or Microsoft Certified Educators course and learn new age skills and become a certified digital or online educator. These courses help in upskilling and professional development and even make a candidate more knowledgeable and skilled.
Author: This article is written by Samiya Rashid for upEducators blog.