Remote teaching is becoming one of the trendiest jobs in the world. According to a recent report, EdTech has seen a growth of $268 billion in the year 2021. These skyrocketing numbers may be the result of the outbreak of the global pandemic but the Covid-19 situation has only aided in boosting the already growing long-term trends in remote learning and education.
Online tutor jobs are far easier and more accessible. It is one of the best ways to impart knowledge and help teachers to delegate their time to different activities. If you have expertise in a subject and know how to integrate tech for digital learning, then online tutoring is an ideal job for you. Online tutoring jobs offer innumerable benefits to teachers.
Firstly, you can work at your convenience. Secondly, you can reach out to students globally and thirdly, you can earn lucrative remuneration.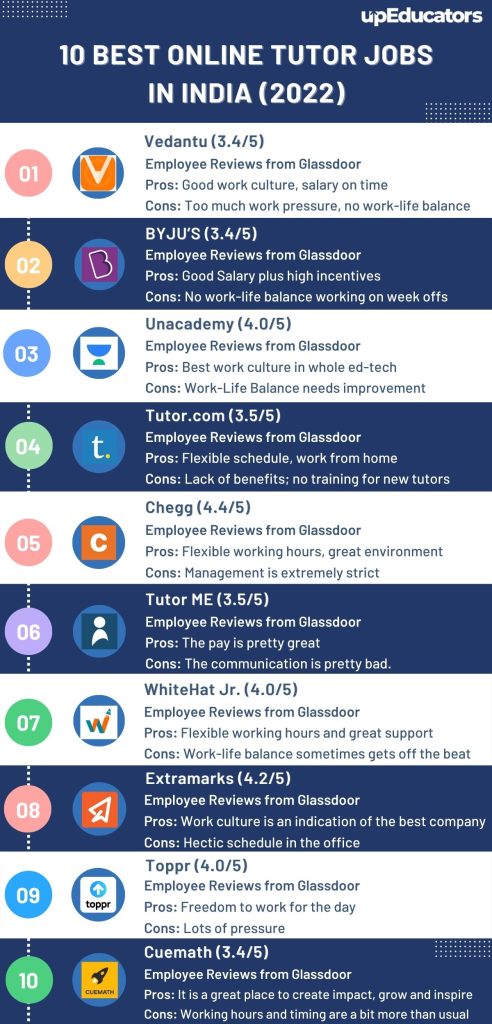 A few websites to help you find online tutoring jobs are listed below:
Vedantu is one of the most successful and approachable websites for online tutor jobs. Today Vedantu provides coaching on a lot of subjects such as Physics, German, French, Math Computers, and many more subjects. Because of the quality of education, more than 40,000 students are using their portal. You can teach any class group under various boards like CBSE, ICSE, or any other board they cover. It offers a few live classes also in which students can ask their questions and be assured to get personal attention.
Earning potential:
A full-time teacher can earn Rs.60,000 and more. You can also teach part-time, 4 hours a day, and earn Rs 25,000 per month. If you enjoy teaching and have a passion to make learning easy for students, then you can join this website.
What's Best for teachers at Vedantu?
It aims high at connecting the teachers and students and thus makes learning easy. If teaching is your passion and you want to make money as a teacher, then you can register on this platform. On the whole, Vedantu's management is very good. It makes teaching and learning very innovative as well as interesting.
Hiring procedure:
Fill out the application form

Choose the subject you want to teach and their experts will screen the best profiles

Pick a topic of your choice and give a teaching demo to their experts

Once selected, you have to create a profile and submit your documents followed by a training and induction webinar

Once you attend the webinar, you will be listed as a teacher and will get your first online session in no time
Employee Reviews from Glassdoor
Pros: "Good work culture, salary on time"
Cons: "Too much work pressure, No work-life balance"
Vedantu Ratings and Trends (Ratings are based on a 5-point scale)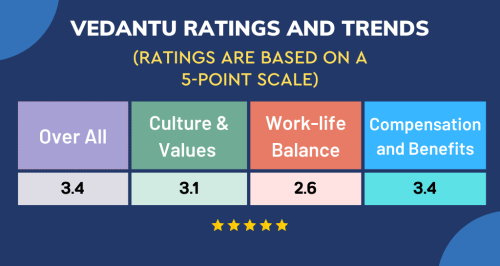 Byju's is an Indian multinational educational technology company, headquartered in Bangalore. It was founded in 2011 by Byju Raveendran and Divya Gokulnath. Byju, an engineer, started coaching students in mathematics in 2006. In 2011, he and his wife founded a company offering online video-based learning programs for the K-12 segment and for competitive exams.
What's Best for Teachers:
BYJU'S offers highly adaptive, engaging and effective learning programs for students of the K-12 segment and competitive exams like JEE, NEET and IAS.
Today, BYJU'S – The Learning App, has over 75 million registered students and 5.2 million annual paid subscriptions.
Hiring Process:
CV Shortlisting

Written-test

Group Discussion

Telephonic Interview

H.R. face-to-face interview only for final selection
Earning Potential:
Average BYJU'S Teacher salary in India is ₹ 5.1 Lakhs for employees with less than 1 year of experience to 4 years. Teacher salary at BYJU'S ranges between ₹ 3 Lakhs to ₹ 8.5 Lakhs. Salary estimates are based on 28 salaries received from various employees of BYJU'S.
Employee Reviews from Glassdoor
Pros: "Good Salary plus high incentives"
Cons: "No work-life balance working on week offs"
Byju's Ratings and Trends (Ratings are based on a 5-point scale)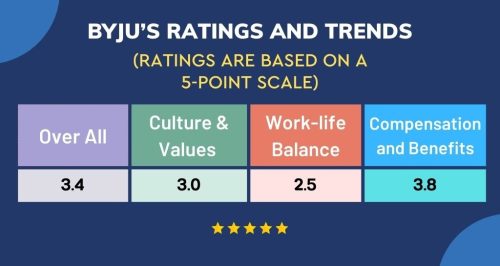 Unacademy offers comprehensive courses for students who are looking to prepare for competitive exams like UPSC, CAT, IIT JEE, and much more. They also teach students from class 6th to Class 12th covering popular boards like ICSE, CBSE, etc. This platform offers supreme education to learners across India and is always on the lookout to revolutionize the ed-tech space in India.
What's Best for Teachers
:
Educators will get access to a wide community of learners who are already connected with Unacademy. Teach with flexibility and get the complete authority to create and share your lesson plans on the Unacademy learning platform.
Earning Potential:
As the largest platform with a growing network of 50,000 educators and more, they impart education to students in 14 Indian languages. More than 62 million learners have registered on this website The average salary for teachers with less than a year's experience to 10 years is Rs. 6.1 lakh and the salary ranges from Rs1.2 lakhs to Rs 16 lakhs.
Hiring Process:
Download the Unacademy Educator app

Follow the instructions and make a demo lesson explaining the concept or topic

Upload your video and the review team will either approve the demo or ask you to make it again offering suggestions for improvement

Once you fit their criteria, they will give a call and hire you
Employee Reviews from Glassdoor
Pros: "Best work culture in whole ed-tech"
Cons: "Work-Life Balance needs improvement"
Unacademy Ratings and Trends (Ratings are based on a 5-point scale)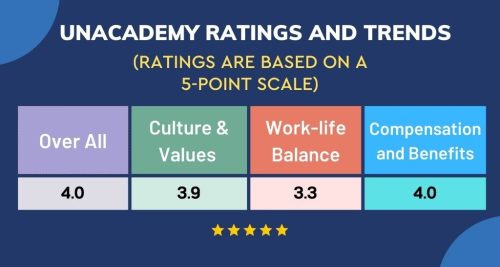 It is another amazing website that makes a great connection between teachers and students. Tutor.com is a very convenient platform to teach and on this platform students from preschool to college look forward to learning from the best mentors. Over the years it has shown ample growth and is very beneficial for employees. More than 19 million tuitions execute on this platform on one to one basis and more than 3,700 tutors serve on this platform and earn their living.
What's Best for teachers:
The teaching schedule is very flexible for teachers. The tuition sessions are available round the clock which enables you to make your own schedule. You can teach from five hours to 29 hours a week.
Earning Potential:
According to Glassdoor, the tutor's salary ranges from Rs 0.4 lakhs to 4 lakhs. These salary estimates are as per the 21 salaries mentioned by the teachers serving at Tutor.com on the Glassdoor platform. You can also earn on a regular schedule without the need of writing an invoice.
Hiring Procedure:
The best part is that it is very easy to join.
Fill out the application form.

There would be an interview along with a mock training session.

Once you clear this, you can become an online tutor here.
Employee Reviews from Glassdoor
Pros: "Flexible schedule, work from home"
Cons: "Lack of benefits; no training for new tutors"
Tutor.com Ratings and Trends (Ratings are based on a 5-point scale)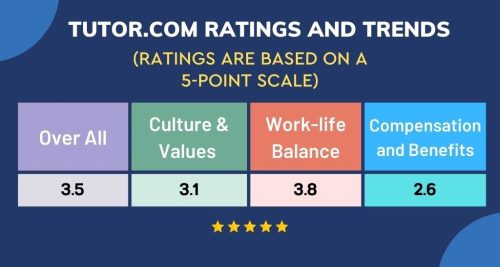 It is one of the most popular websites to learn and teach. It helps the students excel beyond their academic excellence. Chegg is reliable because it provides correct answers from qualified teachers. Subjects like physics, maths, and chemistry are very well dealt with. Chegg simplifies all kinds of complex questions and directs students to correct answers. They have offices across the US in California, Oregon, and New York. They also have international offices in Israel and India.
What's Best For Teachers:
Chegg is a flexible platform with the ideal freelancing opportunities for teachers. Teachers do not even need to upload video lectures as they can earn easily by answering questions from students on various subjects.
Earning Potential:
They are always on a quest to look for talented teachers to join their team. Chegg gives ample opportunities to freelancers to earn. You can earn very well by just answering a few questions. You do not have to give any video lectures. The earnings will depend on the subject you choose and the number of questions you answer. The rates are high for subjects like accounts finance etc. are around Rs.170 for every question.
Hiring Process:
Firstly, when you sign up, you have to provide two verification forms and give copies of your University transcripts.

Submit a photo ID issued by the government to prove your identity and according to the subject you are willing to teach, you will be asked to complete some tests to prove your skills.

It is best to submit a short video introducing yourself and stating why are you an ideal teacher to serve at Chegg this will not influence the application process but it definitely makes sense to do so. In seven business days, you will be notified about the result.
Employee Reviews from Glassdoor
Pros: "Flexible working hours, great environment."
Cons: "Management is extremely strict in assessing the performance of freelancing tutors."
Chegg Ratings and Trends (Ratings are based on a 5-point scale)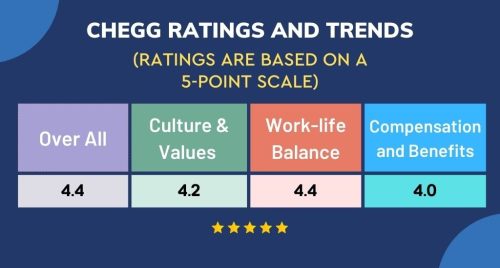 It is a great website to work as an online teacher but needs teachers with some relevant experience in teaching online. The subjects available are foreign languages, computer science, math, etc. It provides on-demand tutoring and online courses. Fully animated video lessons are available as well.
What's Best for Teachers:
There are more than 300 subjects to teach and you can choose calculus, Python, Pano, etc. The flexible schedule and remote teaching opportunities make Tutor.me an ideal platform for teachers looking for freelance teaching roles.
Earning Potential:
The average salary a person can earn is around three lakhs a year. You can earn $16 per hour and have the liberty to decide when and how often you want to teach.
Hiring Procedure:
Joining them is really easy.
You just need to fill in the registration form explaining yourself, your education, and your work experience.

When it gets approved you can start your sessions with given students.

Students can send you direct messages or they can match the students with you.

After each session, students and teachers rate each other so a powerful community can be built.
Employee Reviews from Glassdoor
Pros: "The pay is pretty great."
Cons: "The communication is pretty bad."
Tutor Me Ratings and Trends (Ratings are based on a 5-point scale)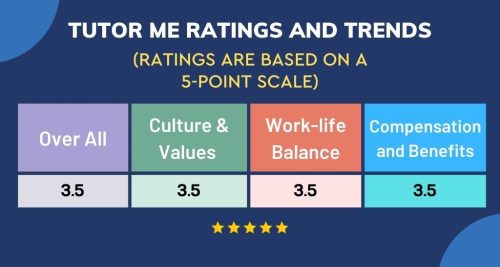 It is an educational startup that was started in the year 2018 by Mr Karan Bajaj (who is the former CEO of Discovery Networks) and aims to provide quality education to students. WhiteHat Jr is one of the fastest-growing EdTech businesses in India, now expanding fast into global markets, including the US, UK, LatAm, Australia, and Indonesia.
What's Best for Teachers:
WhiteHat Jr is a Live online 1:1/1:4 platform for coding, math and music that connects kids ages 6-18 to top early childhood coding teachers, all from the comfort of your home. Kids learn the fundamentals of coding–logic, structure, sequence and algorithmic thinking–to generate creative outcomes like animations and apps.
Earning Potential:
Average Whitehat Jr Teacher salary in India is ₹ 4.6 Lakhs for less than 1 to 8 years of experience. Teacher salary at Whitehat Jr ranges from ₹2.8 Lakhs to ₹ 6 Lakhs. According to our estimates, it is 119% more than the average Teacher Salary in India. Salary estimates are based on 166 salaries received from various employees of Whitehat Jr.
Hiring Process:
The process for recruitment for Whitehat Jr is broken down into five parts. This allows the company to test every aspect of the applicants and ensure they are fit for the job. The process of recruitment includes:
Telephonic interview

– The team from Whitehat Jr contacts a candidate who has applied for the position of teacher and holds a verbal interview over the telephone. At this stage, they will mainly revolve around subjects like
Your introduction and background.

Educational qualifications.

Previous work experience.

Your access to the internet etc.
Coding tests – The whitehat jr teacher interview questions in this round are centred around your aptitude for coding. You will be asked to answer five questions. The maximum mark that can be scored is 500, and the pass percentage is 50%.

Demo session will be held in three parts, focusing on the aptitude. The demo sessions will also check the candidate's communication skills.
Employee Reviews from Glassdoor
Pros: "Flexible working hours and great support"
Cons: "Work-life balance sometimes gets off the beat"
Whitehat Jr Ratings and Trends (Ratings are based on a 5-point scale)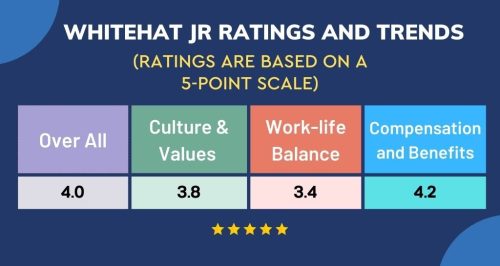 Extramarks aims at providing online and offline education. The company started in India and now it has a global reach by providing services in countries like Africa, Indonesia, United Arab Emirates and Singapore.
What's Best For Teachers:
Extramarks is a learning platform that provides tools and courses for competitive examinations like NEET, SAT, CAP, JEE and even TOEFL. It aims at facilitating online learning by providing live class sessions from the top faculty, doubt-solving sessions, in-depth progress and performance report, complete syllabus coverage for all boards and competitive examinations, quizzes, tests, homework, assignments and worksheets.
Earning Potential:
The average salary for an educator teaching at Extramarks is around 2.7 lakhs PA- 5.5 Lakhs PA which depends on the overall experience of the teacher in the related field. This estimate is based on data disclosing salaries received by around 200 teachers working at Extramarks.
Hiring Process:
Extramarks hires teachers and educators based on their qualifications and skills. Let us look at the eligibility criteria for becoming an Extramarks tutor.
The candidate needs to be a graduate. Graduates from any field can apply for the job openings at Extramarks for teaching a relevant subject in which you have the required knowledge and expertise. Extramarks even hires freshers.

The candidate must have good communication skills to be able to work as an online tutor at Extramarks.

Apply for a job role by visiting the application link for educators on the platform.

Once you have registered, you need to go through an interview round to get hired as a tutor.
Employee Reviews from Glassdoor
Pros: "The work culture here is an indication of the best company. It's so well managed and up to the mark."
Cons: "Hectic schedule in the office."
Extramarks Ratings and Trends (Ratings are based on a 5-point scale)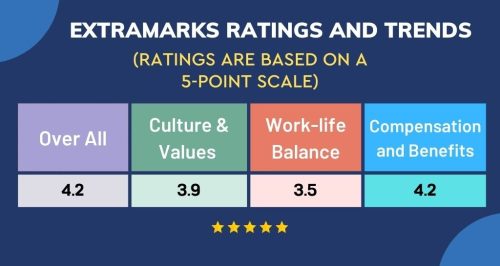 Toppr is one of the top-rated EdTech startups in India for after-school learning. The digital learning platform provides access to educational materials and tools for various schools, boards and even competitive examinations. Headquartered in Mumbai, this EdTech company was founded in 2013.
What's Best for Teachers:
Toppr is an online learning after-school platform that provides study materials, quizzes, coding classes, homework help, an end-to-end school operating system for K-12 for classes 5th-12th and even competitive exam preparations for NEET and JEE. The Toppr application can be accessed on all platforms like smartphones, tablets and desktops. Toppr provides multiple combinations for 22 educational boards with more than 900,000 students currently enrolled and using the platform.
Earning Potential:
Average salary for teachers using Toppr in India is around 0.5 lakhs- 4.8 lakhs per year. The salary range varies according to the experience of the educator in the education and related field.
Hiring Process:
To get hired on Toppr, you need to register on the platform community.toppr.com and look for the jobs that interest you. Complete the onboarding procedure by fulfilling all the requirements. For instance, for the role of typists and content creators, one needs to complete a short training and complete the assigned tasks. To become an online tutor, one needs to have the required qualifications in a subject and also need to clear subject tests, a training cycle and a probation period to start working as an online tutor and for solving doubts.
Employee Reviews from Glassdoor
Pros: "Freedom to work for the day."
Cons: "Lots of pressure without understanding ground realities."
Toppr.com Ratings and Trends (Ratings are based on a 5-point scale)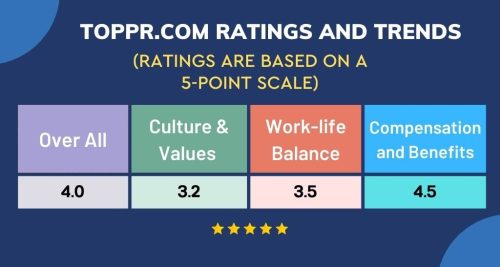 Mathematics is one of the most dreaded subjects for school students. To make this subject approachable and easy to learn, Cuemath provides a platform that focuses on after-school learning for improving the Mathematics ability and coding skills of school students. Founded by Manan Khurma, the platform provides lessons, tests, quizzes, assignments, videos, simulations, concept sheets and a combination of various tools to make Mathematics easy and enjoyable.
What's Best for Teachers:
Cuemath is an ideal platform for developing and brushing Mathematic skills and concepts for school-going students. The platform provides learning materials and lessons for students in classes KG-8th. The best feature of Cuemath is that it focuses on individualised learning by paying complete attention to a single student. It offers LIVE lectures instead of using recorded lectures which helps students in real-time learning and problem-solving.
Earning Potential:
The Average Salary for a Cuemath tutor or educator in India is around 1.2 lakhs- 5.5 lakhs per year. The salary range depends upon the work experience of the candidate in the related field of work. The salary estimates are drawn from the salaries received by around 50 tutors and teachers working at Cuemath.
Hiring Process:
The hiring process at Cuemath is quite simple. You just need to follow certain steps and pay a registration fee to get started. Here's how you can work with Cuemath as an online tutor.
Apply as a Teacher:
Simply log into the platform and fill out a simple form with the basic details like personal information, qualifications and experience.
Registration:
Once the details are verified, the candidate needs to pay a registration fee of up to INR 9,900/- which covers the training and certification along with providing a Wacom tablet worth INR 4500/- to the registered candidate.
Training and Evaluation:
After registration, the candidate needs to undergo training for three weeks. An expert will do an evaluation with a mock test that checks the candidate's progress after the training period.
Demo Class:
Once you are certified after the evaluation, you need to take a demo class. This demo class will be the last step before you get hired as an online tutor at Cuemath.
Employee Reviews from Glassdoor
Pros: "It is a great place to create impact, grow and inspire."
Cons: "Working hours and timing are a bit more than usual."
Cuemath Ratings and Trends (Ratings are based on a 5-point scale)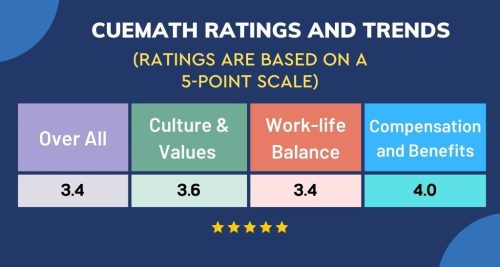 Online tutoring is positively impacting the world of education. A lot of teachers are getting an opportunity to work remotely while maintaining a decent work-life balance.
Author: This article is written by Samiya Rashid for upEducators blog.