If you use digital platforms like LinkedIn or Indeed to find a teaching job, you would find that most educational institutes are looking for a candidate that is not only good at teaching but can work with digital tools and applications. An ideal job applicant must fit into the dynamic work environment where digital tools and technologies play a key role. Digital certifications for educators help individuals to increase their credibility, and experience and provide a better approach to preparing and teaching a lesson to students.
Teachers and educators can become tech-savvy and digitise their everyday lessons by completing a digital certification course. These courses are easily accessible through online modes and are usually short-term courses that can be completed in a few months or days. Before we look at 5 of the most sought-after digital certifications for teachers in this digital age, let us understand the benefits of such certifications and courses to teachers.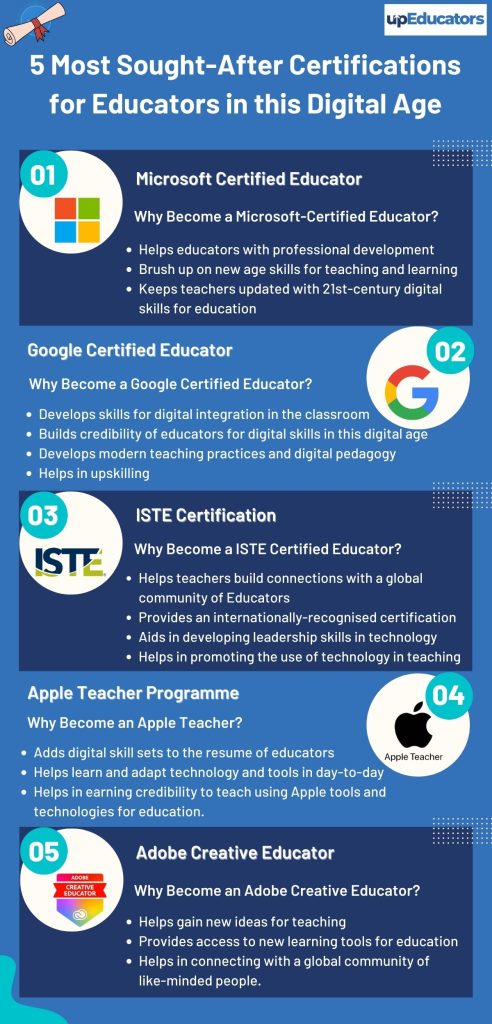 5 Best Digital Certification for Educators in 2022
1) Microsoft Certified Educator
Ever since their introduction, the Microsoft Office tools have come a long way in the field of education and even today, Microsoft tools like Word are used for all kinds of academic writing and research.
Why become a Microsoft Certified Educator?
The Microsoft Certified Educator Program is a professional development program for educators who need to brush up on their digital skills or who want to add a new skill to their resume to become a 21st-century teachers. This program offers training in developing an in-depth understanding of 13+ Microsoft Office Tools and trains teachers on how to develop 21st-century skills for teachers.
The Program can help teachers from lagging in this digital age. A Microsoft Certified Educator can prove that he/she has the skills required to become a digitally literate educator in 2022.

Skill Development with Microsoft Certified Educator Course
The National Education Policy in 20202 emphasized learning 21st-century skills for every individual. Similarly, the Microsoft Certified Educator program focuses on imparting the knowledge and new-age skills to use 13+ Microsoft Office Tools like Word, Excel, Teams, Sway, SharePoint, and OneNote to educators. Using these tools can help educators in developing the following 21st-century skills that are necessary for a better learning experience in the digital age:
Collaboration

Communication 

Real-world problem-solving skills

Use of Information and Communication Technology for learning

Knowledge construction

Use of ICT for learning
Here are some details related to the Microsoft Certified Educator Program that would help you in understanding this course better.
Exam Pattern
:
Case Study with Multiple Choice Questions

40 questions
Sample Exam Question
: The questions for the Microsoft Certified Educator test may include multiple-choice questions, multiple select questions and drag-and-drop questions
Q. The School district has announced a science fair competition for 14-16-year-old students. Rules state the student displays must include the following information;
The hypothesis of the experiment

explanation of the Test procedure

results and conclusion
How can this learning activity be modified to meet level 4 of the 21CLD Rubric for skilled communication?
Include professional journal citations from supporting research studies

Include a PowerPoint kiosks design for 14-16-year-old viewers that summarizes the students' experiment

Add photos of the Test procedure and graphs of the results

Have the student stand by the display to answer questions
Exam Duration:
The exam or the test for this certification is for 60 minutes.
Passing percentage: 70%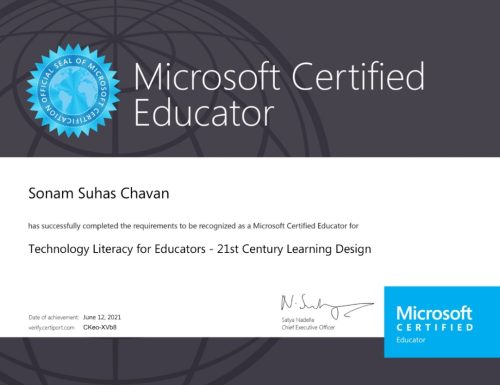 2) Google Certified Educator
Google offers various tools and EdTech applications that help educators and teachers in becoming well-versed with digital tools meant for learning and teaching. The Google Certified Educator program helps educators and teachers to earn a badge that would make them certified educators who have a mastery over using various EdTech tools by Google & Modern Teaching Practices. The program helps educators in gaining expertise in 18+ Google Tools like Google Classroom, Docs, Forms, Sheets, Sites, Slides and Google Meet along with New Teaching Methods suitable for the digital age.
Why become a Google Certified Educator?
Digital Integration in classrooms

: Getting a Google Certification for educators will help you in making the digital experience in your classroom seamless. Modern classrooms require teachers that can integrate these tools into daily lessons to enhance learning and thus it is essential to be well-versed with such digital tools.

Credibility: Becoming a Google Certified Educator may take a few hours of your time but it will give you credibility for a lifetime as an educator in the digital age. Your certification will be proof that you
Modern Teaching Practices and Digital Pedagogy:

Google Certified Educator course includes modern teaching practices and digital pedagogy. Teachers can learn the new age teaching methods and skills with the Google Certified Educators course. 

Upskilling

: This certification will not only enhance the learning experience in the classroom but will help you in adding a new skill to your resume as a teacher.
Here are some details related to the Google Certified Educator Program that would help you in understanding this course better.
Exam Pattern:  35-40 Multiple Choice Questions
Sample Exam Questions:
Due to covid 19, students are not coming to the classroom and you want to take all the assignments online. What benefits will they get from their assignments going online? (Select any 3)
They can see the due dates of all the assignments in one place

If they find some assignments difficult, then they can cancel them.

They will find all the assignments in one place.

They can view the assignments of other students if they are finding it difficult to do them on their own

After the grading, they will get the email regarding their score or any other comments from the teacher
Exam Duration:
180 minutes
Passing Percentage: 80%
In case you want to explore more about Google Certified Educator Course, then click here.
" I joined this training program to learn digital tools for teaching. This program helped me to become a tech-savvy teacher. The entire training program was very good and sir took us into detail about the tools from this training program. I would say this program is simply the best." 
– Ashi Smrit
Director- Busy Hands Foundation, Bangalore
Subjects: English, EVS & Maths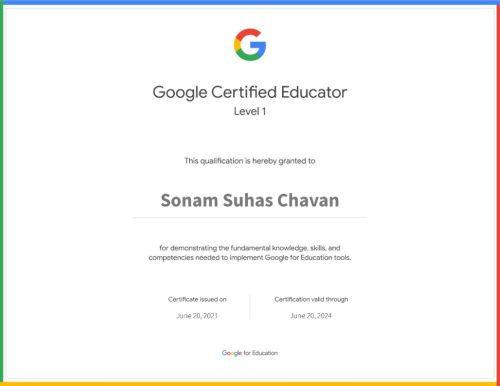 3) ISTE Certification
ISTE is a globally-recognised certification offered by the International Society for Technology in Education for teachers and educators. This course, unlike other digital courses, focuses on transforming the approach and methods used by teachers to prepare and teach lessons. Instead of fixating on digital tools and technologies, this course promotes the transformation of the pedagogy used by all kinds of educators from technology coaches to classroom teachers.
Why Become ISTE Certified Educator?
Helps you in gaining up to four graduate-level credits

Aids you in building a connection with a global community of educators

Provides you with an internationally recognised certification that helps you in develop and showcase your leadership skills in technology

Promotes the use of technology in your teaching and helps you in integrating ISTE level skill sets to apply in your teaching methods.
Here are some details related to the ISTE certification that would help you in understanding the module and certification better.
Exam Pattern:
Certification is not based on a final test or examination. 

Educators need to submit a portfolio of the work based on the guidelines.

Senior Educators from ISTE evaluate your portfolio and assess whether your portfolio is meeting the required guidelines.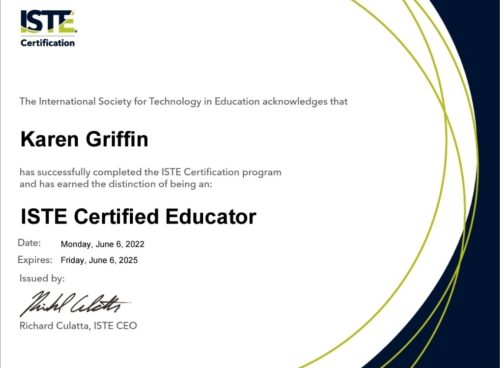 4) Apple Teacher Programme
Apple Teacher program is designed by Apple to make teachers or educators gain the required skillsets to integrate Apple education technologies, tools and gadgets into teaching and learning. To enrol on the program and get a certification, the interested teacher or the educator needs to:
Log in to the Apple teacher learning centre using an Apple ID and password.

You will get two options to choose from: Learn skills for iPad or Learn Skills for Mac.

You will get different sections in each course. For instance, the Learn for iPad section will take you to six sections. Completing each section will give you six badges.

After collecting all the badges, you'll be redirected to a quiz with 5 questions. After completing the quiz successfully, you will be credited with the Apple certification in that area.
Why Become an Apple Teacher?
The Apple Teachers Program helps the global community of educators to add a digital skillset to their resume which helps them in gaining knowledge and expertise in using these tools and technologies.

Apple Educators help the global community of students to learn and adapt Apple technology and tools in their day-to-day learning and lessons.

The educators undergoing this certification gain credibility to teach using Apple tools and technology.
Here are some details of the Apple Certified Educators Programme that would provide you with better insight and information related to this course.
Exam Pattern:
Tutorials and study material. Gives the candidate a badge after completing a brief quiz.
5) Adobe Creative Educator
The Adobe Creative Educator programme is coursework designed for creative educators who are open to learning and applying creative and novel ideas and methods in the teaching process. This program provides curated professional development materials, and the opportunity to connect with like-minded educators around the world. You can earn badges for completing each level of the Adobe Creative educator program.
Earning a badge and certificate for becoming Adobe Creative EducatorLevel one, you need to: Complete a learning artefact- a graphic that can be used in your Adobe tool of choice like Adobe Spark Post, Photoshop, Illustrator and more. The graphic should represent how you will inspire creativity in education as a teacher or how you will support the creative side of your students.

After completing the learning artefact, you need to submit it and share it on your social media pages with the  #AdobeEduCreativ. Adobe will provide you with custom graphics that will help you in building your professional online presence and network.

After completing this 1-hour assignment and course, Adobe will provide you with an Adobe Creative Educator Level one Badge. You can use this badge or attachment with your learning networks.
Why Become an Adobe Creative Educator?
This course helps educators in gaining new ideas, access new learning opportunities and connect with a global community of like-minded educators who are also eager to learn to integrate technology into learning. The programme is divided into levels and the educator needs to pass these levels to become an Adobe Creative Educator.
Here are some necessary details related to the Adobe Creative Educator programme that would help you in understanding the program better
Exam Pattern: Assignment and coursework
Course Duration: 1-hour coursework and assignment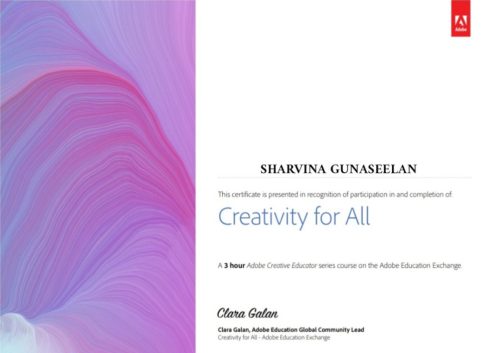 Which course is relevant for me?
All of such certifications are very comprehensive and in demand. But as a teacher, it is not possible to pursue all of these courses. A Teacher can choose the Certifications based on their requirements and which Apps are being used by their schools. For example, if your School is using Apple Education App, then Apple Certification can be for you. In terms of popularity, Google Certifications are the most popular because certifications are reasonably priced and all the Apps you will learn are free to use for everyone including teachers, students and private tutors. After Google Certification, Microsoft is the second most popular in India, because not only does it prepare you for the Microsoft Apps but as well as for 21 Century Skills which are very well aligned with New Education Policy.
Globally ICTE Certifications are also popular but the cost of the certification is very high ( Rs.70,000), which becomes a hindrance for every educator in pursuing it.
Digital tools and applications are integral to the education sector. The effective integration of these tools will help educators to optimize learning and teaching through Edtech. Teachers and educators can benefit a lot from enrolling in such short-term digital courses and getting an authentic certification from a distinguished and reliable program.
Author: This article is written by Samiya Rashid for upEducators blog.