According to a survey by UNESCO, there were more than 11 lakh vacancies for teaching in India in 2020. States like Uttar Pradesh and Bihar collectively had five lakhs vacant positions for teachers. In another report, the World Economic Forum has prepared a report on which types of jobs will emerge and which will become redundant. In the report, they predicted that the Teaching profession will create one of the maximum job vacancies in future.
Teaching is not just a profession. It is a noble job with a lot of responsibilities. Some are born natural teachers, while others can groom themselves and excel as a teacher. Anybody can become a teacher with the correct training to teach. Whether you are a fresher right out of school or a professional looking for a career change, this guide will help you reach your goal.
Once you have decided that you want to begin your career in teaching, you should know which level you want to teach. After picking that, you ought to choose a board from a wide range of choices like Cambridge, IB, CBSE, ICSE, Government schools or State Board. An aspiring teacher also needs to understand the salary structures for various levels, boards and institutes before making a final decision. This guide will take you through all this and more to help you understand whether teaching is for you or not. And if it is, how should you prepare for a career in teaching?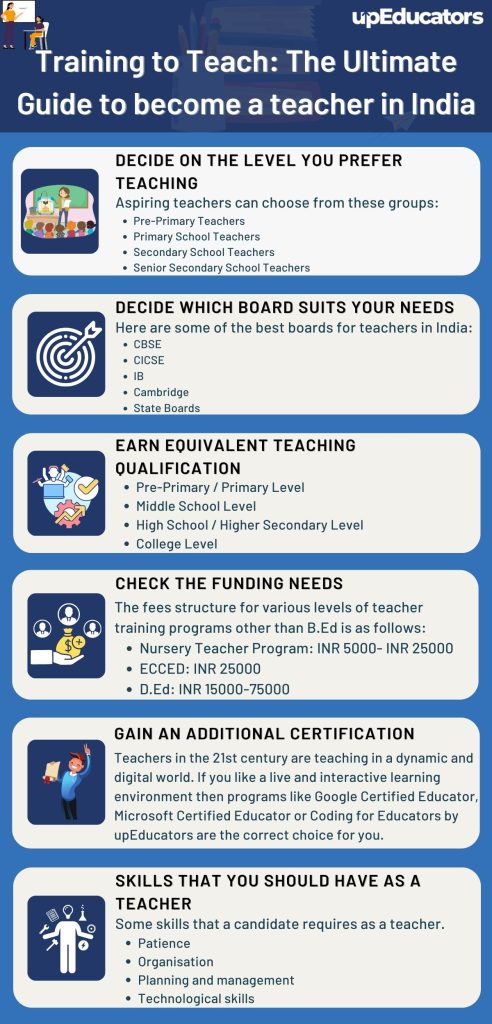 upEducators has trained thousands of teachers in learning digital skills and pedagogies. After thorough research and discussion with experienced educators, we have discovered the best ways to become a teacher in India. In this article, you will get a complete guide to becoming a teacher in India as we touch upon and discuss the following points:
Board

Level

Qualification

Skill sets

Additional Certification

Funding
Decide on the level you prefer teaching
Choosing a grade level to teach is the first step to starting your journey as an educator. The education system in India comprises various grade-level groups. Aspiring teachers can choose from these groups based on their interests and qualifications.
The Pre-Primary School includes grades from LKG(Lower Kindergarten) to UKG(Upper Kindergarten). The primary responsibilities of pre-primary school teachers include designing age-appropriate lessons using creative learning techniques like storytelling and games, developing social and communication skills and maintaining a line of communication with the parents.
Primary school is the next stage after pre-primary school. The primary grades include classes I-VIII. Classes VI-VIII are considered the upper-primary stages. The teachers undertaking students during this stage have a wide range of responsibilities. A primary school teacher has to teach by adhering to the national curriculum designed for these classes. Teachers teaching at the primary level take up a range of subjects instead of sticking to a limited list of disciplines.
Secondary School Teachers:
Grade IX-X are a part of the secondary school in the Indian education system. The secondary school focuses on advanced lessons in all disciplines. Secondary school teachers must have the knowledge and qualifications to impart education on complex topics. Skills like problem-solving, critical thinking and creative thinking are a part of the secondary school curriculum. Thus, secondary school teachers must be well-versed in teaching such skills and topics.
Senior Secondary School Teachers:
The 11th and 12th grades are the final stages of school in India. The senior secondary curriculum consists of the subjects or the stream a student opts like commerce, humanities or science. The senior secondary school teacher ought to have expertise in a subject they prefer to teach.
Earn Equivalent Teaching Qualification
Pre-Primary / Primary Level:
Taking up teaching as a profession in India is a simple route. The minimum qualification to teach in Preschool is NTT Certification, ECCED which can be pursued post senior secondary i.e. Class 12. Candidates who have completed senior secondary can also pursue D.El.Ed, D.Ed, D.PED, Diploma in Art Education. All the teaching qualifications post senior secondary requires candidates to secure a minimum of 50-60% in their Class 12 examination. This will help you teach at the pre-primary and primary levels.
Candidates can also pursue a 4-year integrated B.Ed programme along with an undergraduate degree in Science, Commerce or Arts in any stream to become a teacher at Primary Level. The minimum eligibility score at the senior secondary level is 50%
Candidates can after completing their undergraduate studies in a specific stream i.e. Science, Commerce and Arts can pursue a Bachelor in Education(B.Ed). During the two years of B.Ed, one can choose the subjects they would like to focus on for teaching. A candidate needs to score at least 50-55% in the undergraduate program to pursue B.Ed and teach at Middle School Level.
High School / Higher Secondary Level:
Candidates can after completing their Master's studies in a specific stream i.e. Science, Commerce and Arts can pursue a Bachelor's in Education(B.Ed). During the two years of B.Ed, candidates can choose the subjects of their specialisation. A candidate needs to score at least 50-55% in the Master's program to pursue B.Ed. After completing B.Ed, candidates can pursue a Master in Education (M.Ed)
To teach at the college level, the candidates should qualify for a Master/ MPhil/ PhD in their respective stream/ subject and should either clear State Eligibility Test (SET) or the National Eligibility Test (NET) to be able to teach at the college level.
You can check the different teaching qualifications programs offered by various educational institutes as per your zone. Visit the National Council for Teacher Education website.
Teacher Eligibility Test:
TET or Teacher Eligibility Test is an essential test that needs to be given by the teachers in case they would like to teach in any National Curriculum Board such as State Board, CICSE or CBSE. It is mandatory to clear TET to become a teacher in Indian government schools.
The Exam takes place once or twice a year and is conducted at the central and state levels. The eligibility criteria for the exam are as follows:
Candidates must have completed schooling or a graduate program from a recognised university with a minimum of 45 per cent marks.

Candidates must hold a Diploma in Education or a B.Ed degree, or equivalent teacher training course.

The minimum age of the candidates is 18 years while there is no upper age limit.
Number of papers: 2
Total number of questions: 150
Duration: 2 hours 30 minutes.
Exam Pattern: MCQ
Check the funding needs
The fees for an undergraduate degree differ based on the institute. The fees for a B.Ed course of two years range from INR 5000- INR 2,00,000 per annum. A candidate needs to check the funds required for completing the necessary and extra certifications to become a teacher.
The fees structure for various levels of teacher training programs other than B.Ed is as follows:
Nursery Teacher Program:

INR 5000- INR 25000

ECCED:

INR 25000

D.Ed:

INR 15000-75000
After calculating the required fee amount, one should look for ways to procure the funds. Candidates can get a hold of the required funds in different ways. Firstly, candidates who can self-finance their education must do so. Secondly, students can raise loans from banks and use them to fund their education. Thirdly, there are various private and government fellowships available for B.Ed students. Candidates can check their eligibility for these scholarships and apply for them. Some of the best scholarships for B.Ed candidates are:
TATA Trust Scholarship for B.Ed and D.Ed students

UGC Emeritus Fellowship

CARE Rating Scholarship Scheme
Gain an additional certification
Teachers in the 21st century are teaching in a dynamic and digital world. The profession thus requires more than just teaching skills. A teacher must be ready to take up any challenges and have a strong hold on modern teaching practices, digital pedagogies and tools of education.
Teachers must pursue additional certifications that help them in upskilling and gaining relevant skills. For instance, teachers in the modern learning environment need to be tech-savvy. For blended learning and online learning, an educator needs to be familiar with digital tools used in the classroom. Teachers can become tech-savvy and experts in technology by completing digital certification courses from platforms like Coursera and Udemy. But if you like a live and interactive learning environment then programs like Google Certified Educator, Microsoft Certified Educator or Coding for Educators by upEducators are the correct choice for you.
In addition to this, integrating disciplines like coding is mandatory under the National Education Policy 2020. Aspiring teachers can get certified in such skills and increase their chances of getting hired.
Skills that you should have as a Teacher
A good teacher is someone who can communicate and listen well, who is adaptable and patient, and who has a presence that keeps students engaged. Other qualities that make for an effective teacher include valuing real-world learning, being open to exchanging best practices, and having a lifelong love of learning. Teachers also should possess good organisational skills as they have to juggle various tasks. Here are some skills that a candidate requires as a teacher.
Patience

Creativity

Organisation

Planning and management

Conflict Resolution

Technological skills
Becoming a teacher requires training and the necessary qualifications. Along with the training and qualifications, a candidate needs to have the required skills to become a teacher. Training to teach in India comprises multiple ways depending on the level at which a candidate wants to teach. A candidate needs to do intensive research and then embark on the journey to become a teacher.
Author: This article is written by Samiya Rashid for upEducators blog.