Digital tools and applications are the future of education. With the increasing popularity of blended and online learning environments, there are thousands of tools available for education. One such outstanding tool is Peardeck. Peardeck is simply an extension primarily used for Google Slides as well as Microsoft PowerPoint. But it comes packed with so many features and uses in the classroom. In this blog, we will go over the various features and uses of Peardeck. But let us first understand what is Peardeck.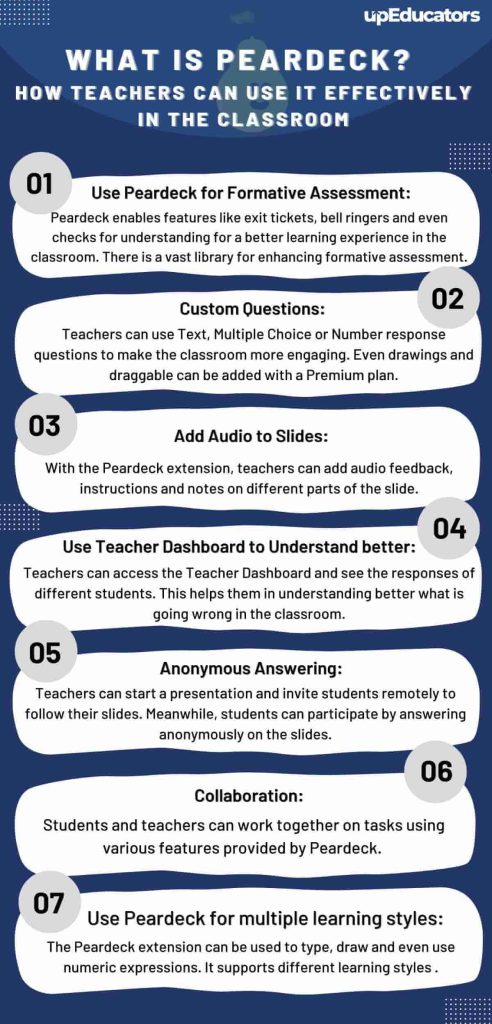 What is Peardeck?
Peardeck is a Google Slides and Microsoft PowerPoint extension for education that helps teachers create engaging, interactive presentations and lesson plans. With more than 2.8 Million visitors per month, Peardeck has gained a lot of popularity in the blended and online learning environments. 
With Peardeck, teachers can easily add multimedia content, quizzes, and polls to their presentations, and track student engagement and understanding in real time. Peardeck is also great for flipped classrooms, distance learning, and blended learning environments.
With Peardeck, educators can create digital activities, quizzes, and games that can be used in the classroom or for distance learning. Peardeck also provides a platform for educators to share their content with other educators.
How Peardeck Works?
The Peardeck extension can be accessed on any device with an internet connection, and it is easy to use. Simply create an account and log in to start creating your first lesson.
The Peardeck tool works by allowing educators to create lessons using a variety of different media types. These can include text, images, video, and audio. Once a lesson is created, it can be shared with students via a link or QR code. Students can then access the lesson and interact with the content.
Ways to Use Peardeck in the classroom
Peardeck can be seamlessly integrated into online and blended learning environments. Teachers can use Peardeck in a variety of ways to make the classroom more interactive.
Use Peardeck for Formative Assessment: 
The creators of this tool understand the learning objectives and needs of students and teachers at different levels of lesson delivery. Peardeck enables features like exit tickets, bell ringers and even checks for understanding for a better learning experience in the classroom. The team has created a vast library of such templates that can be used by teachers for enhancing formative assessment.
Custom Questions:
Teachers can use Text, Multiple Choice or Number response questions to make the classroom more engaging.  Even drawings and draggable can be added with a Premium plan.
Add Audio to Slides: 
Written feedback process becomes chaotic and cumbersome. With the Peardeck extension, teachers can add audio feedback, instructions and notes on different parts of the slide. This enhances communication and makes the learning process swifter. 
Use Teacher Dashboard to Understand better:
Teachers can access the Teacher Dashboard and see the responses of different students. This helps them in understanding better what is going wrong in the classroom. They can take a step back and develop a better lesson plan that helps all the students.
Anonymous Answering:
Teachers can start a presentation and invite students remotely to follow their slides. Meanwhile, students can participate by answering anonymously on the slides.
Collaboration:
Peardeck is a great tool to enhance collaborative activities in the classroom. Students and teachers can work together on tasks using various features provided by Peardeck.
Use Peardeck for multiple learning styles: 
The Peardeck extension can be used to type, draw and even use numeric expressions. It supports different learning styles and provides students with the option to choose a learning style they find comfortable.
Pricing 
Peardeck makes it easy for teachers to create and share engaging, interactive lessons with their students. The extension is available for free to all teachers and students, and there is no subscription required for the basic features. But to use premium features, the subscription fee applies. Peardeck is also available on all major mobile and desktop platforms, so it can be used in any classroom.
Peardeck is one of the most useful and essential Google Slide extensions for teachers. Teachers in the 21st century need to be tech-savvy and learning such tools can help them in upskilling and land better jobs. 
Teachers can learn digital skills from self-paced learning platforms like Youtube. Or they can join live and interactive upskilling courses like Google Certified Educators or Microsoft Certified Educators by upEducators. These courses help teachers in becoming tech-savvy and learn all the digital skills and pedagogies that make them fit for a 21st-century classroom.
Author: This article is written by Samiya Rashid for upEducators blog.